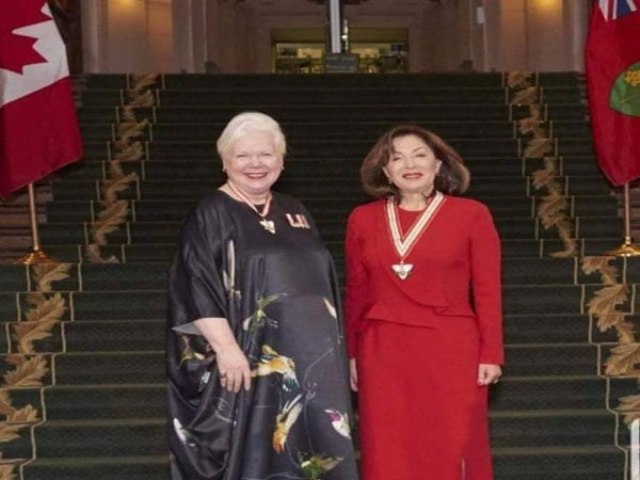 The "Egypt Can With Taa Marbouta" conference has borne the fruits of success, with several of its pioneer members earning some of the highest Canadian awards.
The former dean of the Faculty of Engineering at the University of Windsor in Canada Hoda ElMaraghy, and one of the pioneers of the "Egypt Can" conferences, was awarded the "Order of Canada", the highest Canadian honor by the Governor-General of Canada.
The medal is given to personalities who have made extraordinary contributions to Canadian society in various disciplines.
Dahlia Mostafa, an Egyptian life coach, counselor, and trainer, residing in Canada, also received the Queen Elizabeth II's Platinum Jubilee Medal, the highest royal honor for humanitarian work in Canada and around the world – for the second time in a row.
The Minister of State for Immigration and Egyptians Abroad Affairs Soha al-Gendy, expressed her pride in ElMaraghy and Mostafa's achievements.
She said that the slogan "Egypt Can" continues to be proven with every every achievement made by Egyptians around the world.
This honor is well deserved, she added, and called the two women the pride of Egyptian women abroad, as they spared no effort to raise their homeland's reputation.
"They love Egypt and always translate this love and belonging into support for their country in all fields", she stated.
Canadian/Egyptian excellence
ElMaraghy is the first woman in Canadian history to obtain a PhD in industrial engineering, and the first woman to hold the position of Dean of the College of Engineering at the University of Windsor.
She joined the scientific advisory body of the Canadian Minister of Defense, and is also the holder of a fellowship of the Royal Swedish Academy of Engineering Sciences. The Canadian McMaster University listed ElMaraghy among several elite and famous graduates.
ElMaraghy was previously awarded the "Ontario" medal for her scientific efforts in the field of engineering.
Dr. Dahlia Mostafa was honored by the Governor-General of the Province of Alberta, Salma Lakhani, representing Queen Elizabeth II and King Charles III, due to her humanitarian imprint in serving the residents of Alberta in Canada and around the world.
Also, for her tangible role in assisting psychologically affected individuals and families during the Covid-19 pandemic stage for the last 3 years, developing awareness and understanding for people with special needs, and honing new immigrants with skills and helping them integrate into Canadian society while preserving their original identity.