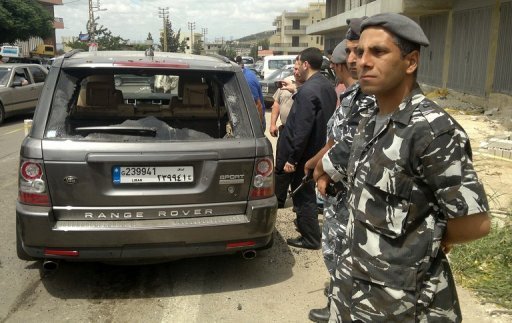 Albireh, Lebanon — Hundreds of Islamist gunmen fired in the air on Monday as they laid to rest a Sunni Muslim cleric whose killing ignited street battles that brought the bloodshed of Syria's uprising across the border into Lebanon.
Sheikh Ahmed Abdul Wahid, an opponent of Syrian President Bashar al-Assad, was shot dead a day earlier at a Lebanese army checkpoint in a part of Lebanon where Sunni sympathy is with Syria's rebels.
Demonstrators blocked roads and burned tires in the northern province of Akkar, and similar protests in Beirut gave way to firefights with machine guns and rocket-propelled grenades.
The clashes on Monday between gunmen from the Future Movement, loyal to anti-Syrian former Prime Minister Saad al-Hariri, and members of a pro-Syrian party, left two dead and were the worst unrest in Beirut since sectarian fighting brought Lebanon to the brink of civil war in 2008.
UN Secretary General Ban Ki-moon, in a meeting with French President Francois Hollande, said he was "extremely worried" about all-out civil war in Syria "and the outbreak of related violence in Lebanon" according to a UN readout of their talks.
The US State Department urged "all parties to exercise restraint and respect for Lebanon's security and stability."
Khaled Daher, a member of parliament from the Future Movement, said Abdul Wahid was the victim of an "intentional assassination" by Lebanese troops he said were loyal to Damascus, which demands Lebanon cut the flow of arms to the mainly Sunni rebels in Syria.
Syria flooded Lebanon with troops early in its 1975-1991 civil war and dominated its smaller neighbor for over a decade afterwards. It retains significant influence over Lebanon's intelligence apparatus and military.
Its 14-month-old uprising has rippled into Lebanon, where fighting between Sunni Muslim fighters, Assad supporters who belong to his minority Alawite sect, and Lebanese troops killed eight people in the northern city of Tripoli last week.
Mourners bore the bodies of Abdul Wahid and Mohamed Mraib, another man killed in the checkpoint incident, to a mosque in Albireh in Akkar, the coffin of the latter man shrouded in the standards of the rebel Free Syrian Army and the Future Movement.
Lebanon's prime minister, himself from Tripoli, has appealed for calm and vowed steps to preserve civil peace. Judicial sources said 20 soldiers were being questioned over the checkpoint killing, following demands for their prosecution.
Syria says UN ignoring impact of sanctions
In Syria, where a ceasefire intended to pave the way for a UN-sponsored peace plan has failed to take hold, opposition activists said Assad's forces extended an offensive in the central province of Hama.
Syrian forces shelled and then stormed the village of Qastoun on Monday, the head of the UK-based Syrian Observatory for Human Rights Rami Abdel-Rahman said, following what it said were the killings of 41 people a day earlier in nearby Souran.
Rami Abo Adnan, an activist living in Hama city, said he was hearing reports from residents of Qastoun that dozens of mortar bombs had hit the village and there were casualties.
The group claimed separately that two civilians had died of gunshot wounds on Monday after a skirmish between government troops and deserters outside the coastal city of Banias.
Opposition activists also said three rebels were killed in fighting in northern Idlib and Aleppo provinces, including Sheikh Issam al-Zein, a rebel commander. There was no independent confirmation of the accounts from Syria, which strictly limits journalists' access.
Damascus says it shares the UN plan's goal of a negotiated path out of bloodshed, and points to its recent constitutional change and parliamentary elections as proof of its sincerity. The opposition dismisses both as farcical.
The state news agency SANA said Assad called on the new parliament to convene on Thursday, and 16 members of the security forces killed by "terrorist" gangs were buried on Monday.
The government has clashed with the United Nations over the means of delivering humanitarian aid to about a million Syrians, with Damascus demanding control over the distribution of supplies. UN officials have said that might let Syria get into opposition strongholds and punish rebels by denying aid.
On Monday, Foreign Minister Walid al-Muallem told the UN peacekeeping chief that the global body should also show concern about the impact of Western sanctions on the wider Syrian population, SANA said.
"Expanding the scope of aid means that the (United Nations) cannot claim to care for the destiny of some one million Syrians affected by armed acts while ignoring 23 million Syrians whose livelihood and subsistence are targeted by European and US sanctions," it quoted him as saying.