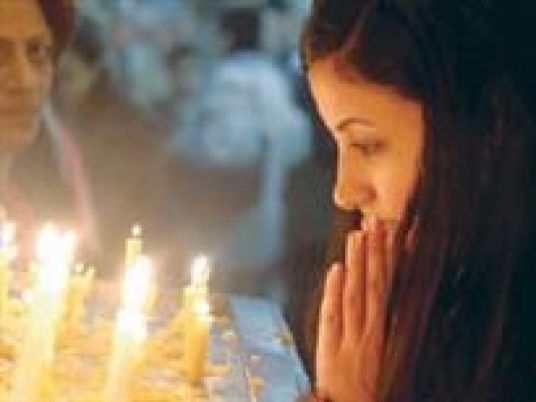 Amid tight security measures, hundreds of orthodox Copts in Alexandria commemorated the fourth anniversary of the bombing of Two Saints church, which claimed the 24 lives and injured dozens of others.
The governor and other political figures attended the mass with the families of those who lost their lives in the 2011 New Year's day bombing.
Archbishop Royce Morkos held the mass and the pontifical secretary in Alexandria delivered the sermon.
Bishop Cyril Ava Mina of the Mar Mina Monastery held the funeral mass for the victims at the cemetery.
Dozens of Coptic and Muslim activists held a vigil and lit candles outside the church in solidarity.
Joseph Malak, the church's attorney, filed a lawsuit against Interior Minister Mohamed Ibrahim and Security Director Amin Ezz Eddin for not pursuing investigations for the perpetrators of the attack. He said the State Security Prosecution has repeatedly requested the Interior Ministry to submit the investigations but the ministry has not not complied, which constitutes a crime as per Article 123 of the Penal Code that punishes by imprisonment any public official who fails to carry out the judgments and orders of the judicial bodies.
He said the prosecution has set 8 February for the first hearing of the case. "We filed 20 complaints and petitions in the last four years with the Attorney General but nothing has happened," he said.
Edited translation from Al-Masry Al-Youm