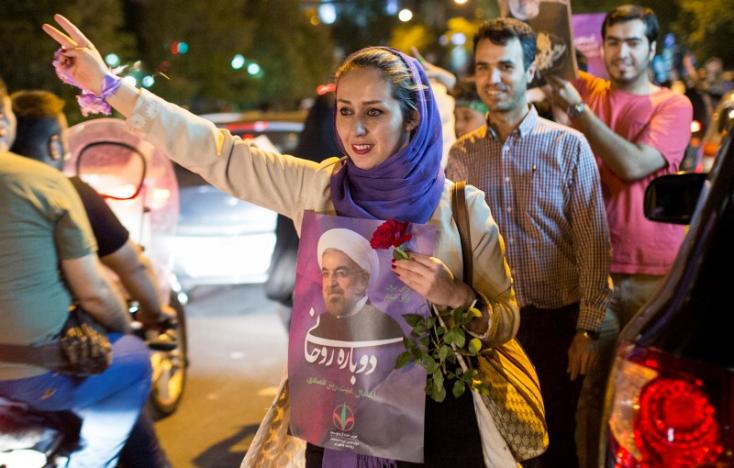 A senior United Arab Emirates official said on Sunday the re-election of moderate Iranian President Hassan Rouhani could be a chance for Tehran to reset "its troubled relations" with its neighbors.
Relations between Gulf Arab states, including the UAE, have been strained over fears that Tehran was interfering in their affairs, including in Syria and Yemen, fomenting unrest and sectarian tensions. Tehran denies these allegations.
Rouhani beat his main challenger, hardline judge Ebrahim Raisi, in presidential election on Friday, garnering more than 57 percent of the vote.
It was not immediately clear if the comments by UAE Minister of State for Foreign Affairs Anwar Gargash reflected any change in Arab states' views of Iran. US President Donald Trump's criticism of Tehran was well received at a summit of Arab and Islamic leaders with him in Riyadh on Sunday.
In a tweet about Rouhani's election victory, Gargash said: "With Pres[ident] Rouhani's re-election, one hopes Iran reset its troubled relations with neighbors. Let Tehran not squander another opportunity."
On Saturday, Saudi Foreign Minister Adel al-Jubeir, at a news conference with his US counterpart Rex Tillerson in Riyadh, said Iran's presidential election was an internal matter. "We want to see deeds, not words" from Iran, he added.
Kuwait's emir Sheikh Sabah Al-Ahmad Al-Jaber Al-Sabah, an ally of Saudi Arabia, congratulated Rouhani on his re-election.
The UAE, a regional trading and tourism hub, is a main trading partner with non-Arab Iran. The Gulf Arab state last year downgraded ties with Tehran after Saudi Arabia severed ties with Tehran after demonstrators angry at the execution of a Shi'a Muslim cleric in the kingdom attacked Saudi missions.
Reporting by Sami Aboudi; Editing by Tom Heneghan