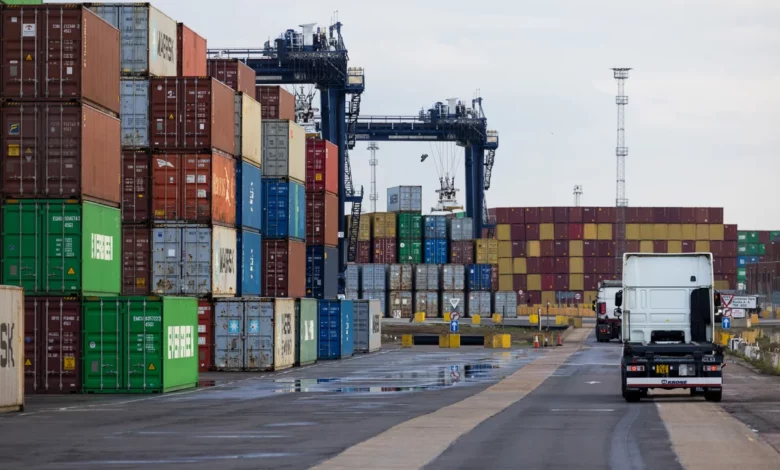 London
CNN
 —  The
UK economy
grew slightly in the three months to June 30, driven by strong rises in manufacturing and consumer and government spending.
Gross domestic product increased 0.2 percent compared with the previous quarter, the Office for National Statistics said Friday, beating economists' forecasts for zero growth. In the first quarter, output ticked up by 0.1 percent.
Falling raw material prices contributed to the growth in manufacturing, said ONS director of economic statistics Darren Morgan. An increase in hospitality activities also helped keep the economy moving, as did government expenditure on public administration, defense and health.
However, all-important consumer spending was probably boosted in June by good weather and a flurry of live events, based on anecdotal evidence from businesses cited by the statistics office.
"The UK is by no means out of the woods," said Jonathan Moyes, head of investment research at Wealth Club, a financial research firm. "Dismal" weather in July and August is likely to weigh on spending by households in the third quarter, he added.
Growing the economy is one of the UK government's five priorities for this year, set out by Prime Minister Rishi Sunak in early January, although he did not specify by how much.
But another priority is halving inflation. Annual inflation stood at 10.5 percent in December, slowing to 7.9 percent in June and remaining far above the Bank of England's 2 percent target.
In a bid to tame prices, the central bank continued its campaign of interest rate hikes last week despite the pain these are gradually inflicting on some parts of the economy. Policymakers raised the main cost of borrowing in the United Kingdom to 5.25 percent — the highest level since February 2008.
Previous rate hikes are likely to "increasingly weigh on UK activity and inflation" in coming quarters, they noted.
Unlike its Group of Seven peers, the UK economy has still not returned to pre-pandemic levels of output. And the Bank of England expects GDP growth to remain below pre-pandemic rates "in the medium term," it said in a quarterly report published last week. In the three years before Covid's rapid spread in 2020, UK output expanded by an average of 0.5 percent per quarter.
Half a decade lost?
Forecasts released Tuesday by the National Institute of Economic and Social Research paint a similarly gloomy picture. The institute doesn't see the UK economy passing its pre-pandemic level until the third quarter of 2024, resulting in "five years of lost economic growth."
Low growth and stagnant productivity are making half of UK households more financially vulnerable and increasing the incidence of outright destitution, NIESR said. And most households and businesses will be hit if the economy fares worse still — the institute predicts a 60 percent chance of a recession at the end of next year.
According to Capital Economics, a downturn could come sooner.
"We still think that with most of the drag from higher interest rates still to come, GDP will fall in Q3 [this year] and a mild recession will begin," Ruth Gregory, deputy chief UK economist, wrote in a note Friday.
Early survey data suggests that Britain's bout of feeble economic growth has continued beyond the second quarter. The preliminary reading of the Purchasing Managers' Index for July showed hardly any growth in UK private sector output and the weakest rise in six months.