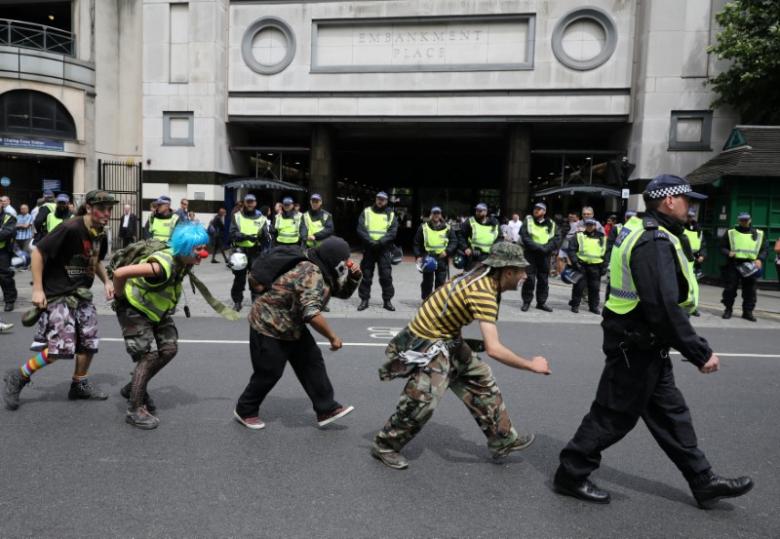 Hundreds of police officers lined the streets of London and Birmingham on Saturday to prevent far-right demonstrators from clashing with rival anti-fascism groups on a day of protest following deadly attacks in Britain.
In the country's second biggest city Birmingham, dozens of members of the far-right group Britain First took to the streets waving national flags and chanting "Britain First, Fighting Back".
Banners declared it was "Time to fight Islamic Terror".
Britain has been rocked by a string of attacks in recent months, with 35 people killed by Islamist assailants in London and Manchester while a man killed one and injured several others when he drove a van into Muslim worshippers leaving a London mosque on Monday.
The country has also been rocked by a fire at the vast Grenfell Tower social housing block in west London which killed at least 79 people.
Britain First describes itself as a patriotic resistance operating on the frontline in Britain, working to keep "our people" first ahead of "foreigners, asylum seekers or migrants".
West Midlands Police, which covers Birmingham, said they understood people had concerns over the march but could do nothing to stop it.
"There will be a high-visibility police presence at the scene and we have significant resources on standby should they be required," they said on Twitter.
In London, where police are still recovering from three major attacks in three months, officers imposed strict conditions on marches in the capital, dictating when and where people could protest.
Officers stood across major streets to prevent the English Defence League from getting near the Unite Against Fascism and United Against Extremism demonstrations.
"We have made the decision to impose conditions based on current tensions and concerns, information about the intentions of the organizers of these events and intelligence from previous marches held by similar groups," Superintendent Emma Richards said in a statement.
Police in 2013 arrested more than 160 people as trouble broke out between anti-Islamist activists and thousands of counter-demonstrators in an area of east London that was home to one of Britain's largest Muslim communities.
Reporting by Kate Holton; Editing by Angus MacSwan; Reuters