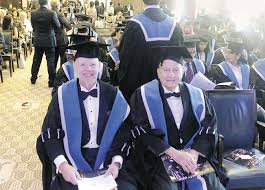 UK's Royal Medical Society on Friday awarded Cairo University's professor of gynecology Mohammed Abou al-Ghar a gold medal for his excellency in the field of reproductive health and infertility.
Head of the Royal Society Leslie Reagan said that Abou al-Ghar's researches helped in developing treatment for infertility and reduced complications arising from in Vitro-Fertilisation (IVF).
Reagan clarified that Abou al-Ghar ranked first in the field of women's health, childbirth and reproduction, encouraging Royal Medical Society to award him.
In 1986 Abou al-Ghar founded the first Children's IVF Center in the Middle East, called the Egyptian IVF-ET Center, Reagan said. He also chaired the Middle East Fertility Society and the Middle East Fertility Society Journal in 1992.
Abou al-Ghar is also a political activist, having co-founded the Egyptian Social Democratic Party following the 2011 Egyptian revolution, in which he also demanded the democratization of Egypt's universities.
Edited translation from Al-Masry Al-Youm