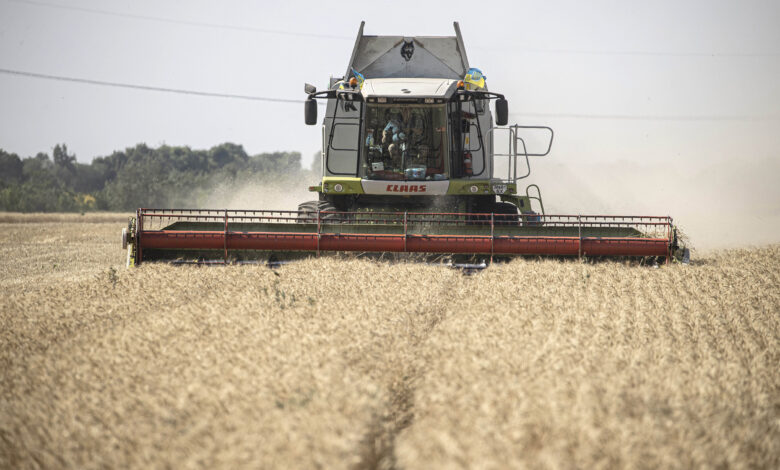 For months, Ukraine and allied countries have been trying to mitigate a growing food crisis caused by Russia's months-long blockade of Ukrainian ports, with Moscow being accused of using food as a weapon of war.
On Monday, Ukrainian President Volodymyr Zelensky said up to 60 million tons of grain could be stuck in the country by the fall if it continues to face blocked exports.
Here's what you need to know about the situation:
Grain blocked: Zelensky said 22 million tons of grain are currently blocked in Ukraine but that number could triple in the next few months. "Then we will be in a really difficult, very difficult situation," he said. The President said he was working with the United Nations to try to open a safe corridor that would allow Ukraine to export grain from its Black Sea ports.
Why Ukrainian grain matters: Ukraine has long been described as one of the world's breadbaskets. But Kyiv accuses Moscow of blocking its ports and trying to steal its grain. The UN has said Russia's blockade of Ukrainian ports has already raised global food prices and threatens to cause a catastrophic food shortage in some parts of the world. Russia has repeatedly denied it is blocking the ports or stealing grain.
Finding alternative routes is vital: British Prime Minister Boris Johnson said Monday that the international community will need to find "alternative routes" to transport grain supplies out of Ukraine. Johnson suggested using railway lines or the Danube River if the Bosporus Strait in Turkey cannot be relied on.
Ship in Turkey: Kyiv has appealed to Ankara to detain a Russian-flagged ship carrying grain from Ukraine. Ukraine's Ambassador to Turkey Vasyl Bodnar said the Zhibek Zholy ship was loaded in the southeastern port of Berdiansk. "It is possible that the grain was delivered from neighboring areas, but the loading point was Berdiansk, that is, the occupied territory," he said. According to Bodnar, Turkey's Ministry of Trade responded to the initial appeal saying the ship will remain anchored near the port of Karasu without being allowed to unload nor go back, while Turkey evaluates Ukraine's request.
Russia harvesting grain: About 2 million metric tons of grain are being harvested from fields in the southern Zaporizhzhia region, which is controlled by Russian forces, according to Yevgeniy Balitsky, military head of the Russian-occupied areas of Zaporizhzhia. "The grain supply is facilitated by close cooperation with the Crimean authorities, who ensured unimpeded passage through customs and border checkpoints," Balitsky said. Ukraine has accused Russia of appropriating last year's grain supply from the occupied territories in the country's south.
Warnings of famine: The UN has said Russia's war in Ukraine could push up to 49 million people into famine or famine-like conditions because of its devastating impact on global food supply and prices. Last month, Zelensky said Africa has been "taken hostage" by Russia's war and warned the global food crisis will continue "as long as this colonizing war goes on," affecting the lives of up to 400 million people who depend on Ukrainian exports.