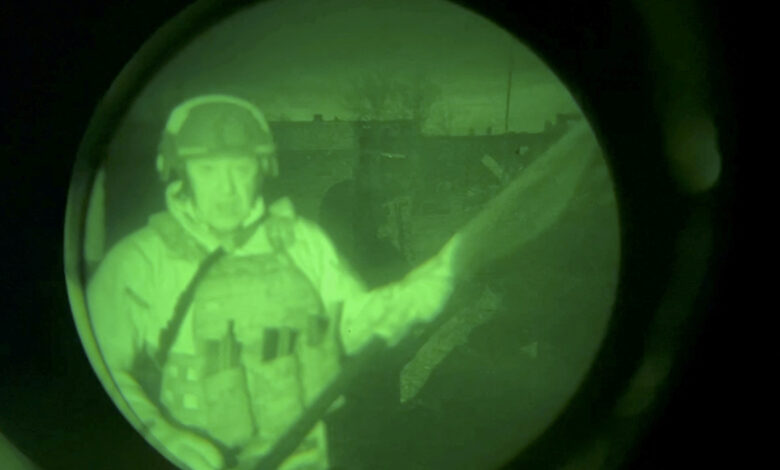 Ukrainian officials have dismissed the claim made Sunday by Wagner chief Yevgeny Prigozhin that "in legal terms" Russian forces hold the embattled eastern city of Bakhmut.
Prigozhin made the claim while raising a Russian flag in Bakhmut in honor of the murdered military journalist Vladlen Tatarsky. He said the flag was being raised at the site of the council building. Video later surfaced of a flag being raised amid some rubble.
Serhii Cherevatyi, spokesperson for the Eastern Grouping of the Ukrainian Armed Forces, told CNN that "all administrative buildings in Bakhmut have been destroyed. I don't even know which one he was talking about."
"At night, he put some kind of a rag on some remnant of something, it was shown on some incomprehensible video from a thermal imager," Cherevatyi said. The reality was that "they have not been able to capture Bakhmut for nine months."
By contrast, the official said Ukrainian forces only raised the flag once enemy units are expelled and stabilization measures are undertaken.
Cherevatyi said that a significant part of Bakhmut remains completely under the control of the Ukrainian defense forces, so this is "just more wishful thinking" on Prigozhin's part.
"We are able to deliver everything we need there, including ammunition, medicine, food, and to take the wounded out of there," he told CNN, adding that "the situation is very difficult but under our control and there are no signs of a systemic breakthrough or any significant operational success."
The Russians failed to surround Bakhmut and made no battlefield breakthroughs while still suffering heavy losses, Cherevatyi said.
"Over the past 24 hours alone, 154 occupiers were killed in the Bakhmut sector, primarily Wagner fighters, 144 were wounded, and one was taken prisoner," the official said.
Chervatyi said that so far Wagner's units continue to be the main Russian striking force in Bakhmut, but "because of significant losses, they are unable to act entirely on their own in this area today…We can see that airborne troops and motorized infantry units are being deployed."
He said the Wagner chief tried to create the illusion of self-sufficiency, but had failed.
Ukrainian President Volodymyr Zelensky also spoke about the battlefield Monday, alluding to the expectation that Ukrainian forces might soon launch a counteroffensive.