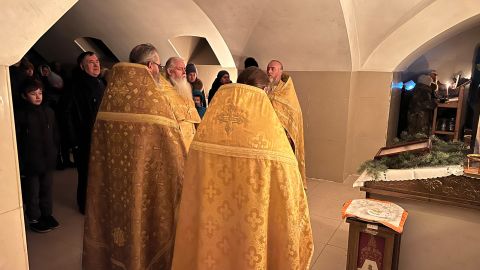 The shelter was jammed with people on the eve of Orthodox Christmas.
Some were trying to warm up around the wood stove after traveling in the freezing drizzle. Others lined up for a cup of hot coffee and biscuits. Under the Christmas tree lay a tangle of wires charging mobile phones.
There has been no electricity, running water or cell phone service in Bakhmut, in eastern Ukraine's Donbas region, for months.
This shelter, with a generator, a wireless router connected to a satellite link up, offers hot food and drinks, medicine, and equally important, volunteers with a sympathetic ear. It's an oasis of comfort in a frigid landscape of danger, destruction and deprivation. Roughly 40 to 50 people were there when CNN visited.
Tetyana Scherbak, a volunteer in a bright green high visibility vest, hustled about that Friday, stopping to speak to an elderly woman hunched over in front of the stove, coaxing a chuckle from another.
"Unfortunately, I am not the sun and I can't illuminate and warm everyone. I try to listen to them. I know many of their stories. I try my best," Scherbak told CNN.
But she can only do so much.