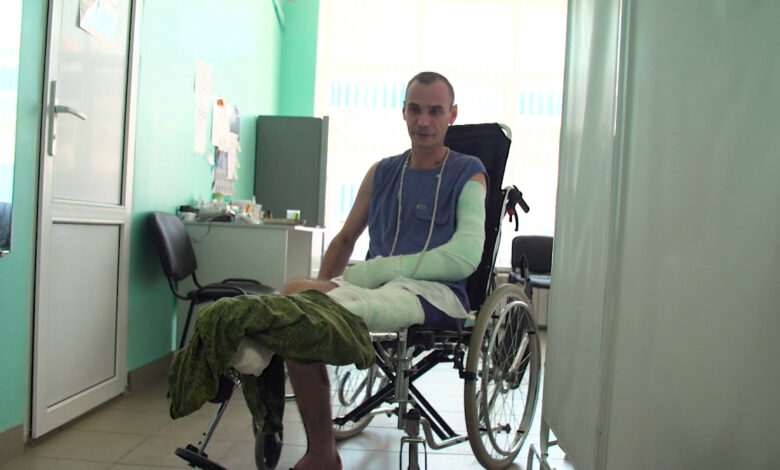 On a sweltering summer day in July, hundreds of Ukrainians try to rest on metal beds lined up in a basketball court-turned-shelter. Their tales of horror and hardship along with a few belongings are all they have left.
But with this safe haven being inside Russia, they are hesitant to share those stories.
Alexey Nechipurenko, 45, was maimed as Russian forces entered the southern port city of Mariupol. His foot was shot to pieces and his wife was killed before his eyes, he tells CNN.
But, as a Russian doctor tends his wounds, he insists Ukraine, not Russia, is to blame for his suffering.
"The Russians were just beginning to enter the city. Therefore, they just couldn't actually have been on the side where we were," he told CNN.
The basketball court shelter is in Taganrog, southern Russia, just 69 miles from Mariupol where Ukrainian soldiers and civilians held out for weeks in the Azovstal steel plant before Russia took full control of the city.
CNN was given exclusive access to the center set up to process some of the more than 2 million refugees estimated to have poured onto Russian soil since the invasion began on Feb. 24.
Human rights groups say Ukrainians are being "filtered" before being taken to the temporary shelters in Russia and any suspected of posing a threat are not allowed through.
And those who passed Russia's first test and made it to Taganrog are reluctant to say too much.
"Now I'm here [in Russia] so please don't press me, said a 30-year-old man from Mariupol who asked not to be identified and only wanted to be recorded talking to CNN with his back to the camera.
"I didn't see who killed my relatives," he said. "As far as I'm concerned, they're just a casualty of this conflict."