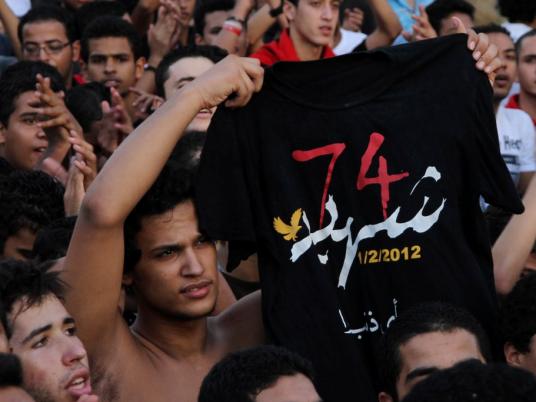 The Ultras Ahlawy, an association of hardcore supporters of Egypt's leading football club, Ahly, have accused the Interior Ministry of plotting a clash between Bedouin tribes in Alexandria's Borg al-Arab area and its members who were planning to storm the stadium hosting a Super Cup match between their Premier League champion team and the Egypt Cup winner, ENPPI.
Sports Minister Al-Emary Farouq had announced that the game would be played at Borg al-Arab Stadium on Sunday despite the tensions surrounding the event. Ahly fans had threatened to storm the pitch during the game to protest the resumption of football activity before prosecuting the perpetrators of the violence that followed a Premier League match between Ahly and Masry in Port Said Stadium in February and left 74 dead.
The group said on its Facebook page Sunday that "the Interior Ministry has returned to its 'dirty' practices by playing Egyptians off against each other," adding that it possesses a recording of a phone call by an Interior Ministry official instigating the residents near the stadium against the ultras.
The group also said it cancelled a gathering previously slated for Monday.
Farouq decided on Saturday to postpone the beginning of the Premier League one month to 17 October instead of 17 September.
Farouq's decision came after meeting with the heads of the clubs participating in the league and Interior Minister Ahmed Gamal Eddin, who stressed the need to postpone the season until stadiums can be properly secured according to the standards set by the public prosecution, Al-Masry Al-Youm reported.
One of the club representatives who attended the meeting and declined to be named told Al-Masry Al-Youm that the Premier League is under threat of being canceled this year and that the postponement is one step toward the cancelation of the season.
Last week, scores of Ultras Ahlawy members broke into the Egyptian Football Association's office in Cairo to protest the EFA's plans to start a new soccer season on 17 September.