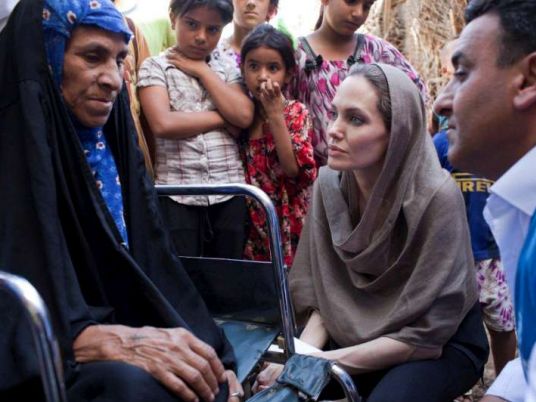 Hollywood star and United Nations envoy Angelina Jolie has urged world leaders to increase efforts in alleviating the suffering of victims of Islamic State in Iraq and Syria, where the group, rising to international prominance after entering the Syrian Civil War, continues to have growing influence.
Jolie, who became a special envoy to the UN Refugee Agency in 2012, made a visit on Sunday to Dohuk, Iraq where she spent her time "visiting Syrian refugees and displaced Iraqi citizens in the Kurdistan Region of Iraq to offer support to 3.3 million displaced people," the international body said on its website Sunday.
The agency noted that the situation of refugees in the area has worsened since Jolie's last visit in 2012.
"It is shocking to see how the humanitarian situation in Iraq has deteriorated since my last visit. On top of large numbers of Syrian refugees, two million Iraqis were displaced by violence in 2014 alone. Many of these innocent people have been uprooted multiple times as they seek safety amidst shifting frontlines," she said.
Jolie added that "nothing can prepare you for the horrific stories of these survivors of kidnap, abuse and exploitation and to see how they cannot all get the urgent help they need and deserve," stressing that much more international assistance is needed.
The UN counts that more than 3.8 million Syrians have fled domestic strife to neighboring Turkey, Lebanon, Jordan, Iraq and Egypt, while 7.6 million remain displaced inside their own country.
There are some 3.1 million internally displaced Iraqis, according to the UN, including a million having been displaced between 2003 and 2013 and 2.1 million in 2014.