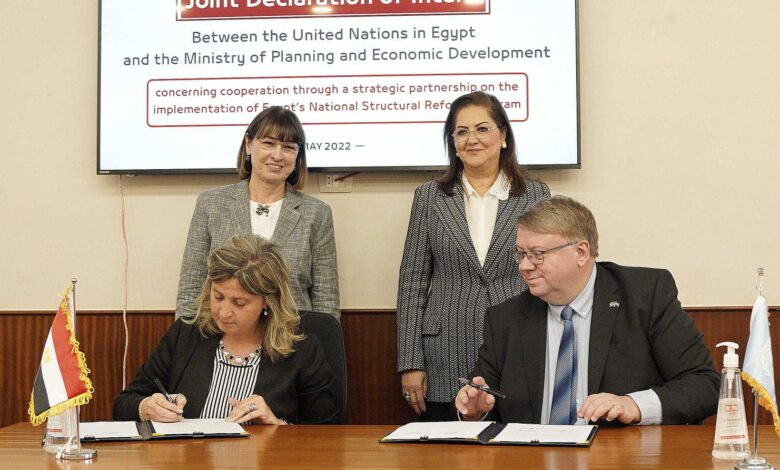 The Minister of Planning and Economic Development in Egypt, Hala al-Saeed, and the United Nations Resident Coordinator in Egypt, Elena Panova on Friday witnessed the signing of a strategic partnership to support the implementation of the Egyptian National Program for Structural Reform 2021-2024.
In a statement Saeed said that the declaration works to enhance participation of the 2030 Agenda for Sustainable Development, through a strategic partnership in implementing the National Structural Reform Agenda for Egypt 2021-2024, launched in April.
The global economy has just begun to recover from the coronavirus pandemic, but economic activity around the world has been negatively affected by the global geopolitical repercussions, noting to the high inflation rate due to the rise in food prices, which will have wide effects on plans to achieve sustainable recovery.
Saeed noted the Egyptian government's launch of the three-year National Structural Reform Program, which aims to diversify the production of the Egyptian economy by focusing on three leading sectors: manufacturing, agriculture, communications and information technology, which represent the main pillar of the structural reform program.
She said that the program includes a comprehensive basic pillar related to raising the efficiency of labor market flexibility, developing technical education and the vocational training system in partnership mainly with the private sector, and implementing the labor management information system for the first time.
During the implementation of the National Structural Reform Program, specific areas will be developed in cooperation with the United Nations Resident Coordinator in Egypt, including forecasting the potential effects of reforms on the sustainable development goals.
The minister noted to the review of the specific policy measures and quantitative objectives specified in the national structural reform program with a focus on comprehensiveness and sustainability, as well as defining the technical assistance of the United Nations.
For her part, Panova said that the United Nations family is proud to partner with the Egyptian government to address critical structural reforms that will support sustainable development.