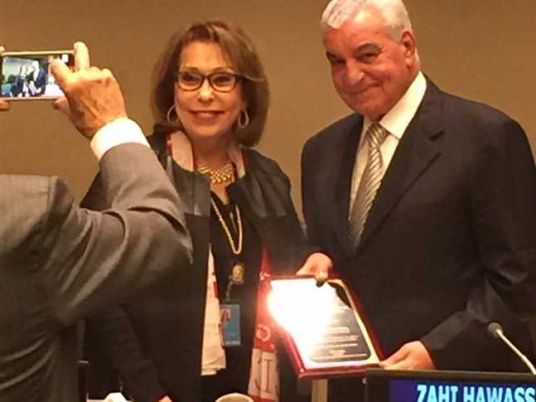 The UN honored Egyptologist and former Egyptian Antiquities Minister Zahi Hawass on Thursday for his role in protecting antiquities, on the occasion of his appointment as United Nations Ambassador for Culture and Antiquities.
The ceremony was attended by a large number of ambassadors of foreign countries, diplomats, media personalities, and over 200 public figures, including Egyptian scientist Farouk al-Baz; American actress Vanessa Williams, known to love Egypt; and businessman Amr Badr.
Representatives from UNESCO and the Vatican, among others, gave speeches for the occasion.
Hawass stressed the need to protect antiquities in Libya, Yemen, Syria and Iraq. He also referred to the achievements of Egypt in the field of archaeology, including the construction of new museums, the opening of archaeological sites and restoration projects.
President Abdel Fattah al-Sisi saved Egypt's antiquities, said Hawass; adding that Egypt's Antiquities Minister Khaled al-Anany plans to prepare a database for all the antiquities of Arab countries which are currently under threat of terrorist attacks, in order to facilitate their tracking and restitution if stolen.
Hawass concluded by saying that Egypt has plans underway to take part in the restoration of destroyed antiquities in the region.
Edited translation from Al-Masry Al-Youm