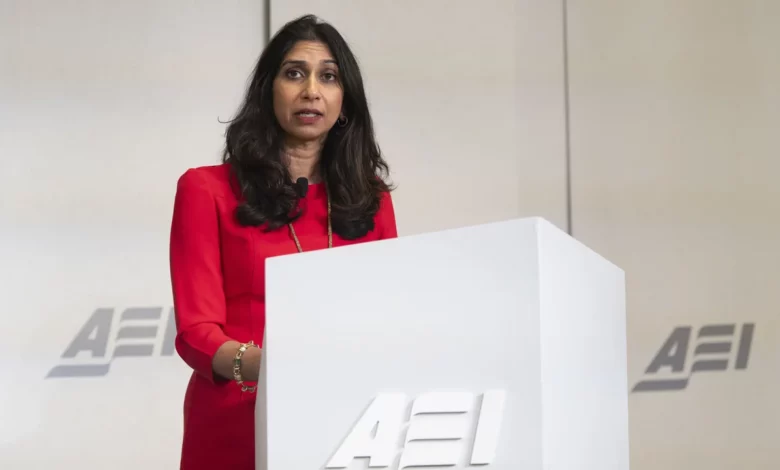 The UN Refugee Agency has rebuked UK Home Secretary Suella Braverman over her claims that world leaders have failed to reform the global refugee system due to fears of being branded as "racist or illiberal" and that the asylum framework is creating "huge incentives for illegal migration."
The United Nations agency issued an unusual statement on Tuesday responding to Braverman's comments, defending the 1951 Refugee Convention and criticizing the United Kingdom's current asylum backlog.
"The Refugee Convention is the cornerstone of the international refugee protection regime and remains a life-saving instrument that ensures millions of people fleeing conflict and persecution each year can access safety and protection across borders," the UNHCR said.
The statement followed the UK home secretary's speech at the conservative American Enterprise Institute in Washington on Tuesday, in which she refused to rule out leaving the international convention and questioned whether it was "fit for our modern age" amid what she claimed was a crisis of illegal immigration for the West.
"Uncontrolled immigration, inadequate integration, and a misguided dogma of multiculturalism have proven a toxic combination for Europe over the last few decades," said Braverman, adding that immigration to the UK and Europe "has been too much, too quick, with too little thought given to integration and the impact on social cohesion."
Braverman also argued that being fearful of discrimination due to one's sexuality or gender should not be enough of a reason to qualify for asylum – a statement that has been criticized by both the UN and refugee charities.
"Let me be clear. There are vast swathes of the world where it is extremely difficult to be gay or to be a woman. Where individuals are being persecuted, it is right that we offer sanctuary," she said. "But we will not be able to sustain an asylum system if, in effect, simply being gay or a woman or fearful of discrimination in your country of origin is sufficient to qualify for protection."
The 1951 Refugee Convention, which was drawn up after World War II, outlines the internationally recognized definition of a refugee and outlines the legal protection, rights and assistance a refugee is entitled to receive. The core principle is that a refugee should not be returned to a country where they face serious threats to their life or freedom.
Braverman said the Refugee Convention "was an incredible achievement of its age," but argued that it's not fit for a modern era where jet travel has transformed global movement and the internet has made people aware of "how much higher wages are in other parts of the world."
"Seeking asylum and seeking better economic prospects are not the same thing. Seeking refuge in the first safe country you reach or shopping around for your preferred destination are not the same thing. Being trafficked, i.e. transported against your will, perhaps to be sold into sex slavery and being smuggled, i.e. asking someone to sneak you into a country, are not the same thing," Braverman said.
"Any attempt to reform the refugee convention will see you smeared as anti-refugee," she added.
In response, the UN Refugee Agency said, "The need is not for reform, or more restrictive interpretation, but for stronger and more consistent application of the Convention and its underlying principle of responsibility-sharing."
Divisive rhetoric
The agency highlighted the UK's large asylum backlog, noting that it has presented the British government with "concrete and actionable proposals" to help clear the backlog and integrate people who are found to be refugees.
The UK had a backlog of more than 215,000 "work in progress" asylum cases as of June 2023, which includes 138,000 cases awaiting an initial decision, 5,100 awaiting an appeal outcome, and about 41,200 cases subject to removal action, according to a recent UK parliament research briefing.
"An appropriate response to the increase in arrivals and to the UK's current asylum backlog would include strengthening and expediting decision-making procedures. This would accelerate the integration of those found to be refugees and facilitate the swift return of those who have no legal basis to stay," the UNHCR statement said. "Expanding safe, regular pathways for refugees to travel to the UK would also offer real alternatives to dangerous, irregular journeys."
It's not the first time Braverman has made headlines for her divisive rhetoric on immigration. Her self-proclaimed "obsession" with curbing migration has previously attracted criticism from international agencies, lawyers, rights groups and many of her own colleagues.
She has staked her political reputation on her ability to "Stop the Boats" – an oft-repeated government pledge aimed at reducing the growing number of migrants crossing the English Channel on small vessels. Last year, the number of migrants arriving on small boats across the channel reached around 46,000 – a record level.
Responding to Braverman's latest comments, British asylum charity the Refugee Council said in a social media post that "all people fleeing persecution – including for their sexuality or beliefs – should have the right to safety."
"Standing up for our shared humanity is just as important today as it ever was," the Refugee Council added. "These international frameworks exist to protect everyone."
The UN emphasized in its statement that 70% of refugees remain in countries neighboring their own and 76% are hosted in low- and middle-income countries.
UNHCR global spokesperson Shabia Mantoo added on social media, "The Refugee Convention is one of the greatest human rights instruments put into effect – saving millions of lives. 35 million refugees are hosted in countries across the world today – testament to its enduring relevance and the embrace of its key principles."
CNN's Rob Picheta contributed to this report.