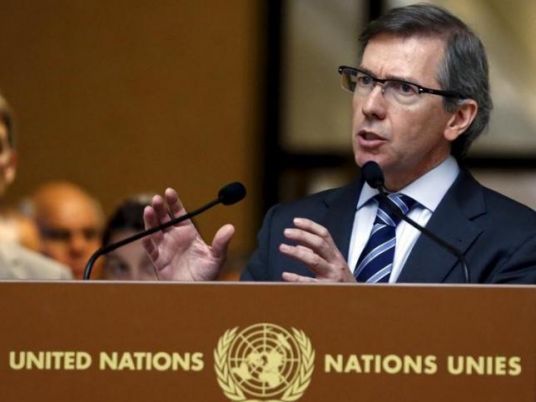 The outgoing United Nations envoy to Libya, Bernardino Leon of Spain, on Thursday said he would seek a "full clarification" of a newspaper report that the United Arab Emirates was shipping arms to Libyan factions in violation of a U.N. arms embargo.
One email quoted by the New York Times appears to be from a senior UAE diplomat, who admitted his own country "violated the U.N. Security Council Resolution on Libya and continues to do so."
The report about the emails will likely prove to be a new embarrassment for Leon, who recently defended himself against allegations that his decision to accept a high-paying post heading a UAE diplomatic academy represented a conflict of interest. Leon's new role is expected to involve training envoys of one of the Arab countries most involved in the Libyan crisis.
"In light of this (New York Times) report, I have decided to request a full clarification of the issue, including from the United Arab Emirate (UAE) authorities, as I take time to reflect on the next steps in my professional career," Leon said in a statement.
Leon will soon be replaced by veteran German diplomat Martin Kobler. Emails documenting Leon's negotiations with the UAE about his new post, which were taking place while he was attempting to mediate in the Libyan crisis, were first published by the Guardian newspaper.
Libya has descended into factional fighting, leaving the country almost lawless nearly four years after the fall of Muammar Gaddafi. Two competing governments backed by militia brigades are scrambling for control of the oil-producing country and the chaos has created havens for Islamist militants.
The UAE, along with Egypt, backs the internationally recognised government led by Abdullah al-Thinni that is operating in the east.
The U.N. Security Council imposed an arms embargo on Libya in 2011 when Gaddafi's security forces cracked down on pro-democracy protesters.
Leon made clear that he was not confirming alleged UAE violations of the arms embargo.
"Given the inaccurate or false information we have seen in previous months regarding the process in Libya and the U.N. and my role, I believe it is imperative to be extremely cautious about the most recent reports," he said.
He added: "I consider nothing is more important than full compliance with United Nations resolutions."
The Times said that Emirati government officials declined to comment on the leaked emails. Reuters was unable to independently verify the authenticity of the emails.