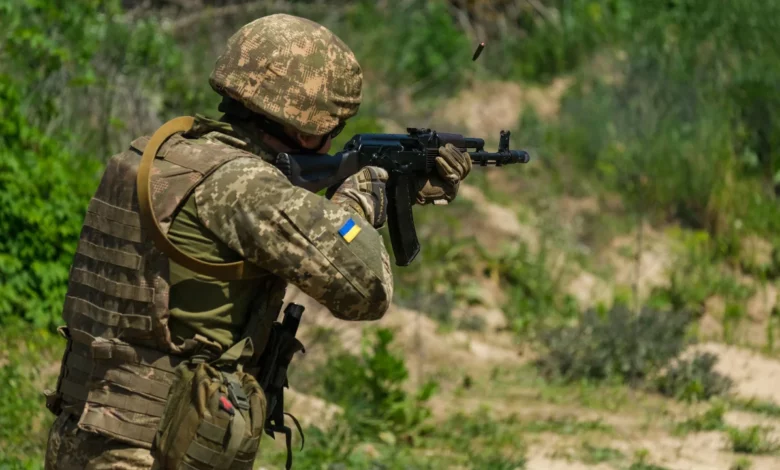 Chernihiv, Ukraine
CNN
 —  The loud engine announces the approach of the Soviet-era armored BTR vehicle long before it appears – racing through a grassy plain on the outskirts of Chernihiv in northern Ukraine. Suddenly it stops, its door opens and
Ukrainian soldiers
rush out, storming the trench below.
"Today our task is training and cleaning the trenches," a Ukrainian soldier with the call-sign Jenia says. He is a member of Kyiv's Offensive Guard, which is part of an initiative by the Ukrainian Ministry of Internal Affairs to establish new assault brigades.
"The enemy has lost positions, we quickly arrive, take positions, and restore it," he adds.
This operation is just a drill, but the scenario has been engineered to be as realistic as possible. The trenches are muddy – despite weeks without rain – and the soldiers are forced to face the unexpected, such as tending to and evacuating the wounded, or adapting after suffering casualties.
"Some people say training is not hard, that there is no danger – but running through the trenches and constantly training, knowing that you will go to battle, it is not easy," Jenia says. "Everything comes with practice, It is clear that during the hostilities there will also be the psychological impact of war – but practice is very important."
Even as Ukrainian cities experience barrage after barrage of Russian missile and drone strikes, Jenia and the other members of the Offensive Guard have remained unfazed, simulating scenarios they expect to find once Kyiv finally launches its much anticipated counteroffensive.
That day is fast approaching, if one of the top advisers to Ukraine's President Volodymyr Zelensky is to be believed.
"There is already some sort of work underway to increase the intensity of the shelling of Russia's logistics support in order to reduce their combat capabilities in the near future, to loosen up their defenses," presidential adviser Mykhailo Podolyak told CNN in an interview.
The strikes Podolyak mentions are often referred to as shaping operations – so-called because they aim to 'shape' the battlefield – in this case, in Ukraine's favor. CNN has previously reported that these began on May 12, citing a senior US military official and senior Western official.
"Everything that is happening now is a precursor to a counterattack, a necessary pre-condition," Podolyak explained. "When the intensity of fire increases, especially on the logistics supplies, when the number of operations increases."
'Shaping' operations ongoing
Ukraine has increased the number of strikes on Russian ammunition depots, logistical nodes and rear echelon bases, such as the ones seen in Mariupol and Berdyansk in the past few days. The military's top general, Commander-in-Chief Valerii Zaluzhnyi, released a slickly produced video over the weekend with the caption: "The time has come to take back what belongs to us."
In his nightly address Monday, President Zelensky said the timing of the counteroffensive had been set, but did not provide further details. And despite the clear signs that a counteroffensive is coming, Podolyak also refuses to commit to specific dates.
"You can't say about a counterattack that it will start any one day, one time when some events will start," he says. "Already now there are intensive relatively offensive actions on the flanks of the town of Bakhmut. There is essentially no city left, but offensives are underway."
These smaller operations are but a sample of the larger offensive, whose ambitious goals Ukraine is very open about and has openly advertized. But for it to succeed, Kyiv needs continued Western support.
"If there are timely deliveries of large quantities of the necessary consumable components, I am talking about shells, drones and missiles, then of course the war can mathematically be over this year," Polodyak says. "But it will end undoubtedly on the borders of Ukraine as they were in 1991, with the de-occupation of Crimea, and undoubtedly with the beginning of a massive process of transformation of Russia's political system."
"There will be a counteroffensive in any case, and it will be successful. It will not be quick, it will take some time, it will be complicated, but it will be successful nevertheless," he added.
These bold goals are why Kyiv has delayed an attack that was initially expected in early in spring but has yet to materialize with summer around the corner, taking time to perfect the strategy.
"It is impossible to be perfectly prepared for such a large volume of combat. There will always have to be fine-tuning," Podolyak explains. "These or other initiative events along the front lines go on, we will continue to accumulate resources, we will continue to conduct combat cohesion, we will continue to train and practice our troops, including the partners conducting training."
Back on the training grounds, the Offensive Guard's commander, call sign Kyiv, shares a similar combat philosophy.
"We improve our fighting skills in special combat training every day to liberate our lands," he says. "Our servicemen now know how to deal with the enemy – because we practice everything until it becomes automatic."
He's been helping train tens of thousands of troops and believes Ukraine has what it takes to succeed.
"We have motivation," he says. "We defend our lands, this is our country, this is our home."
"Of course victory will be ours," he adds.