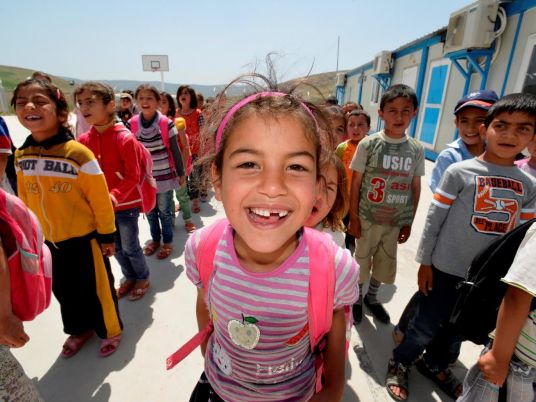 The United Nations High Commissioner for Refugees (
UNHCR
) has launched a campaign entitled "Back to School" to raise awareness for the plight of refugee children in the Middle East and North Africa (MENA) region and affirm their right to education, according to a press statement on September 8.
The initiative urges individuals to "become voices in support of refugee children" so as to inform and involve as many people as possible in the refugee children's struggle, helping them have a better future by simply have access to education.
"Back to School" is part of a larger UNHCR online campaign called "
Voices for Refugees
" that endeavors to gather support not only for refugees, but also for internally displaced people in the MENA region.
According to UNHCR statistics, there are currently 12 million refugee children in the world who represent 51 percent of the global refugee population. The conflict in Syria has pushed approximately two million children out of their homes.
"This resulted in a population of emotionally and physically traumatized Syrian refugee children," read the statement, "447,138 of whom have received psychological support to overcome the ordeals they have endured at a tender age."
Due to poor education, many refugee children are at a higher risk of facing threats, such as early marriage and child labor.
"It is deeply saddening that such high numbers of refugee children, due to circumstances out of their control, and beyond their comprehension, are unable to access education," said UNHCR's Regional Private Sector Partnerships Manager for the MENA region Mr. Houssam Chahine.
Chahine spoke to the importance of the campaign, as well as its main purpose, which is to provide refugee children with access to education. He believes the "Back to School" campaign will help change the plight of these children by, "raising awareness, driving action and inspiration".
The UNHCR hopes to mobilize people from across the MENA region to help support the 5.6 million Syrian children who are victims of the conflict. Individuals can support these children by filling out a
registration form
, which allows them to communicate with and become the voice for Syrian refugee children. The UNHCR team encourages people to visit the "Voices for Refugees"
Facebook page
to learn more about what UNHCR is doing to help the refugee crisis.