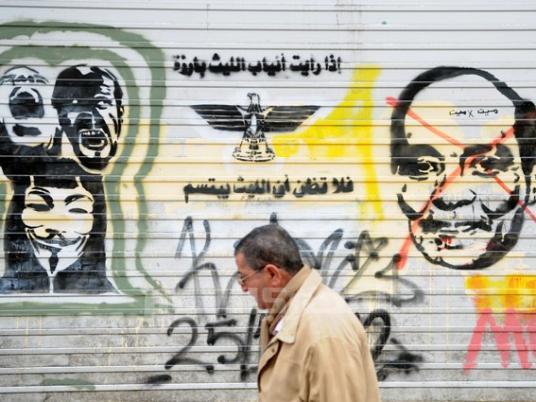 Several universities, schools and workplaces have taken part in a general strike coinciding with the anniversary of the ouster of President Hosni Mubarak, to press for the handover of power to a civilian authority.
At Cairo, Ain Shams and Alexandria universities thousands of students staged protests demanding Egypt's military leaders step down.
Student members of the April 6 Youth Movement at Cairo University distributed leaflets to mobilize for the strike.
"Striking is the way to press for the handover of power to a president that this great nation chooses, not a council assigned by Hosni Mubarak…" the leaflet read. "The officers who killed young people were acquitted while our youth are being brought to military trials — state security is still at work."
Hundreds of students from Collège de la Salle and Jesuit schools marched to support the strike. Students from Jesuits carried a symbolic coffin for a student named Karim Khouzam, one of the 74 fans killed in the Port Said football massacre last month.
In Sadat City, truck drivers blocked Kafr Dawoud Sadat for an hour this morning to show that they are participating in the general strike, as stated by the independent labor group Center for Trade Union & Workers Services (CTUWS).
CTUWS said that workers in the mechanized agriculture sector, who number 6,000, are participating in the strike nationwide.
Meanwhile approximately 2,000 temporary workers at the Naga Hammadi Irrigation Department organized an open-ended protest to push for permanent jobs, and seven hundred temporary workers at the Health Department in Qena organized an open-ended strike to call for permanent contracts.
But Egypt at large appeared calm Saturday and eyewitnesses in Cairo and other cities said the calls for civil disobedience have not been heeded and government institutions are working as usual.
Metro trains and railways kept to schedule, state TV reported on Saturday, while state news agency MENA said Suez Canal and nationwide airports are functioning normally.
Egypt's biggest political movement, the Muslim Brotherhood, opposed the general strike, along with the Salafi movement.
Protest groups have grown harshly critical of the military's handling of Egypt's democratic transition, accusing the army of trying to protect its power for the long term and committing human rights violations that rival those of Mubarak's regime.
Thousands rallied outside the defense ministry on Friday to call for the immediate transition of power to a civilian authority.