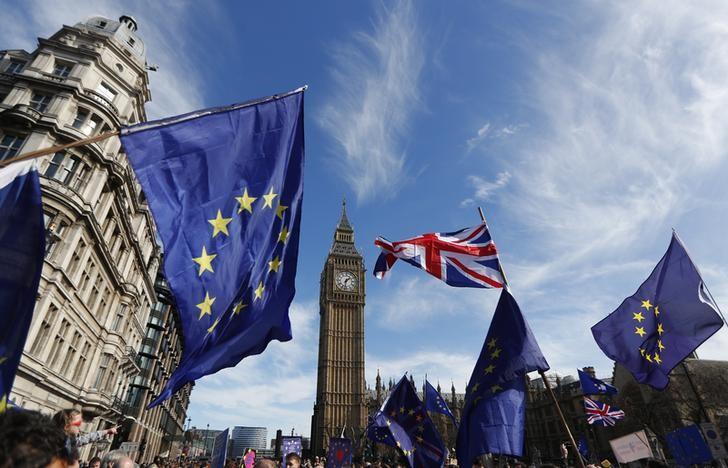 EU officials see the start of Brexit talks on Monday as a sign Theresa May is accepting their format for negotiations but they expect no quick deals and are wary the prime minister may try to break with Brussels protocol.
Still trying to shore up her authority after last week's election calamity injected new uncertainty into Britain's path to leaving the European Union, May is sending her Brexit Secretary David Davis to Brussels on Monday to launch the process with EU negotiator Michel Barnier.
She herself will travel there three days later for a summit on June 22 and 23 with the other 27 EU national leaders.
The others have ruled out letting May negotiate in person with German Chancellor Angela Merkel, French President Emmanuel Macron and others. One diplomat said May tried to "hijack" the summit by drawing other leaders into Brexit talks, though EU officials played down suggestions of any agenda row with London.
The agreed schedule will let May make a presentation over dinner of how she sees her Brexit plans. Summit chair Donald Tusk and the other leaders will not respond before May leaves the room to let the 27 discuss their own Brexit strategies.
"It's absolutely certain that no one will engage with her," a second EU diplomat told Reuters. "They will make clear she cannot negotiate. Everything must go through Barnier," said a third, underlining EU strategy to keep talks technical for now.
CLASH AVERTED?
The fact Davis agreed to an agenda on Monday that will see him and British officials spend some seven hours in the EU executive's headquarters discussing who will talk to whom when and about what has come as a relief to some EU negotiators.
"The big clash that we feared isn't there," said one senior official involved. "There's more or less agreement on the menu … It's probably as good as we could have imagined."
That the British were ready to break negotiations down on the lines of priorities identified by Brussels implied, he said, a willingness to start a first phase of divorce talks before moving on next year to a second phase on the new free trade relationship May wants — a "sequencing" London has disputed.
Asked whether Davis had shifted his position, a British official referred to a statement released by Davis's ministry on Friday which repeated calls for the withdrawal terms and future relationship to be "agreed alongside each other".
EU officials acknowledge that the agreements to be reached before Britain leaves in March 2019 can only be concluded as a whole package simultaneously but leaders have barred Barnier from talking about trade before he gets outline deals on the rights of expatriate citizens and how much Britain owes the EU.
Diplomats played down the prospects for one day of talks.
"Won't go into substance in five or six hours," one EU official said. "But it's an important moment nonetheless."
For another, the combination of finally launching talks on Monday and May being at the summit on Thursday and Friday made the coming week a key opportunity to "rebuild trust" after tempers had boiled over on both sides in recent months.
May has been under pressure since the election cost her her majority to consider "softer" Brexit options than the clean break she proposed from the EU single market and customs union. Her finance minister said at an EU meeting on Friday that a Brexit deal should put jobs and prosperity first.
EU officials played down the importance of Britain's lack of a clear final plan, saying that talks on other issues can go ahead without deciding yet on a new relationship.
Writing by Alastair Macdonald; Editing by Richard Balmforth; Reuters