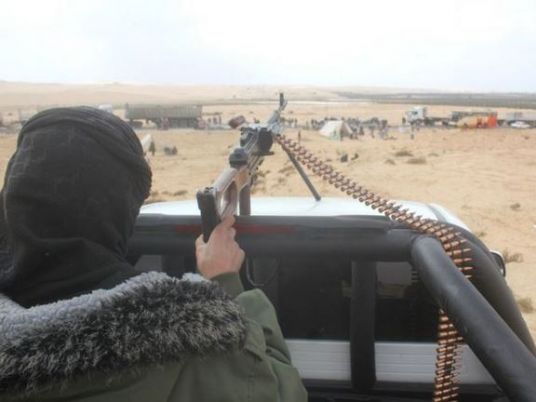 Balttes are ongoing and deaths are surging on both sides as Egypt's army forces engage in fihgting with militants in North Sinai who had reportedly killed a yet undecided number of army personnel earlier on Wednesday, army spokesperson Mohamed Samir said in his latest comment on the heating encounters.
Samir said in an earlier statement that the attacks on security checkpoints were carried out by nearly 70 militants.
Dozens of army soldiers were killed in an exchange of firewith militants in North Sinai's Sheikh Zuwayed region.
Reports about the death toll from the battlefield have been highly conflicting, with Skynews Arabia reproting 60 deaths among the Armed Forces.
Samir, however, had put the army death toll at only 10, with 22 dead among the attackers, while AFP counted 15 deaths, citing security sources. Al-Masry Al-Youm put the number at 30 soldiers, quoting medical sources.
The encounters came after simultaneous attacks early Wednesday on a number of security checkpoints in the volatile Sheikh Zuweid region, according to sources and eyewitnesses who spoke to Al-Masry Al-Youm. They added that people from the pro-Islamic State Sinai Province militia had opened fire on a number of security units boarding pickup trucks.
One civilian woman was killed and others were wounded in the incidents, reported Al-Masry Al-Youm.
The restive Sinai Peninsula has seen an exacerbating influence of militants who claimed responsibility for recurrent fatal attacks against police and army forces that left at least 700 personnel dead since the ouster of former Islamist president Mohamed Morsi in 2013.
The events come two days after the assassination of Egypt's general prosecutor, Hisham Barakat, in a Cairo bombing as the country prepared to celebrate two years since Morsi's overthrow.