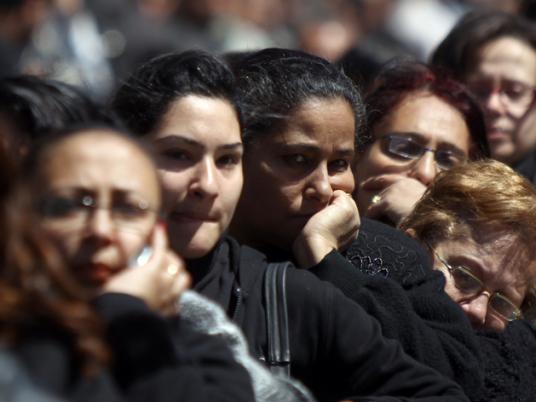 Hundreds of thousands of Coptic Christians dressed in black marched with the casket of Pope Shenouda III as it was transported from St. Mark's Coptic Orthodox Cathedral in Abbasseya to a military air base, from where it was flown to St. Bishoy monastery, in the desert northwest of Cairo, where it will be buried.
Thousands gathered around and grabbed at the army vehicle carrying the casket before it left for the Almaza air base.
As the convoy proceeded from the cathedral in Cairo, people raised banners reading, "Goodbye our pope," "We love you" and "All our love to Pope Shenouda III."
Due to the overcrowding outside the cathedral, clergymen were unable to catch up with the car transporting the pope's body.
As the procession took place, army and security forces withdrew from the area surrounding the cathedral to allow ambulances access to mourners who had fainted or were suffering from breathing problems. Several women and girls fainted during the ceremony and had to be hospitalized.
After the funeral concluded, a stampede erupted as the coffin was taken down the stairs and the crowd pushed to get closer to the body.
Shenouda's body was transferred to St. Bishoy Monastery in Wadi al-Natrun, where he was banished in 1981 after criticizing then-President Anwar Sadat's handling of an Islamist insurgency in the 1970s and Egypt's 1979 peace treaty with Israel. He had requested before his death that his body be buried there.
A military helicopter carrying the late pope's body landed four kilometers from the St. Bishoy monastery in Wadi al-Natrun. Accompanying the body was the commander of the military police, while the governor, other leaders of the armed forces and Christian and Muslim clergymen received it.
"It's a feeling of sadness you can't imagine," a tearful Mina Rizq Saad, 21, of Beni Suef, told Egypt Independent. "I want the earth to feel sad and the sky to feel joy."
Earlier in the morning, thousands of Copts arrived at the cathedral to attend the funeral for the pope, who died Saturday after a long struggle with disease.
Citizens and public figures attended the mass, which was scheduled to run from 10 to 11 am. An earlier mass, attended only by priests, was held at 5 am.
Before 10 am, hundreds of people had already gathered outside the entrance of the cathedral in an attempt to get in — some had official invitations from the church — but the door was closed. Military and riot police formed a cordon nearby.
Prayers began shortly after 10 am. Thousands of people gathered outside the cathedral to watch the mass on a large screen set up by the church.
"I don't know who can replace him, he saw everything. But it will be God's choice," said Erian Gad, 60, who traveled from Suez with his wife to attend the funeral mass.
"I haven't absorbed his death yet," said a woman who traveled from Qena, which is about 600 km away.
The mourners all display a great affection for the late pope.
"He was my father, my life, my love," Enad Zaghloul, an elderly woman from Cairo, said while weeping. "I'm afraid of the future. We're living in difficult times."
She said to herself through her tears: "May the joy of the sky be with you, Father."
Amid an "unprecedented" security plan, police and army forces only allowed a limited number of Copts and some public figures with special invitations to attend the funeral on Monday.
Members of Egypt's ruling military council and members of the Millet Council — a 24-member secular body in charge of the Coptic Orthodox Church's administrative affairs — as well as an assortment of political figures and members of Parliament took the front seats.
Field Marshal Hussein Tantawi did not attend the funeral, but state-run news agency MENA reported that five members of the ruling Supreme Council of the Armed Forces, along with 26 army generals, were present.
British Ambassador to Cairo James Watts told Egypt Independent that the service was nice, but crowded.
Among presidential hopefuls in attendance were Amr Moussa, Hamdeen Sabbahi, Abdel Moneim Abouel Fotouh, Ahmed Shafiq and Hesham al-Bastawisi. In addition, prominent Coptic businessman and politician Naguib Sawiris, artist Hany Ramzy, Egyptian Social Democratic Party MP Zyad Elelaimy and activist John Talaat attended. Sawiris could be seen crying.
Sabbahi, a Nasserist presidential candidate, told Egypt Independent: "His death is a very sad occasion. [Pope Shenouda] was a symbol of unity for all Egyptians."
Some visitors reportedly suffered from breathing problems after scrambling to sit in the front row for the mass.
Correction: An earlier version of this story had incorrectly reported that Field Marshal Hussein Tantawi attended Pope Shenouda's funeral. The story has been amended to correct the error.