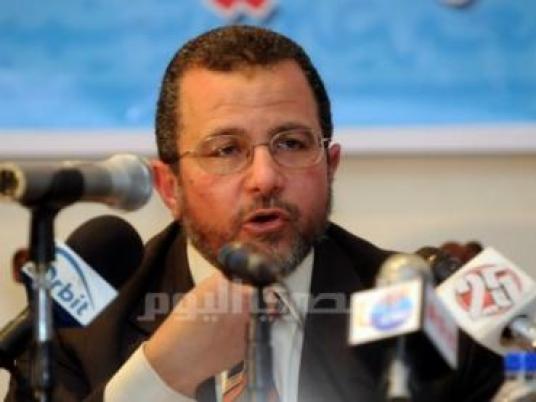 Water Resources and Irrigation Minister Hesham Mohamed Qandil is Egypt's new prime minister, said the official Facebook page of the Muslim Brotherhood's Freedom and Justice Party Tuesday.
Qandil was a senior bureaucrat in the ministry until he was appointed minister in July last year when former Prime Minister Essam Sharaf's reshuffled the cabinet.
Morsy is expected to meet with Qandil and then hold a press conference.
Acting presidential spokesperson Yasser Ali said that the selection conformed with the president's preference for of an independent figure that hadn't joined any political party before or after the revolution, MENA reported.
The former irrigation minister's beard has caused speculation of Islamist tendencies. He denied any affiliation with Islamist groups when he told Al Jazeera his beard was grown in keeping with religious obligations.
Morsy had promised to choose a premier from outside the Brotherhood, and that his choice would form a unity government. His powers are unclear, as well as the military's role in choosing appointments for top security portfolios.
Qandil graduated from Faculty of Engineering in 1984, and went on to earn his masters degree and Ph.D. from North Carolina University in the US in 1988 and 1993. He joined the National Water Research Center, obtaining professorship.
From 1999 to 2005, Qandil worked in the Ministry of Irrigation and Water Resources. He took part in the Nile Basin initiative, and occupied several posts, such as the head of the Nile Sector in the African Development Bank.
Earlier on Tuesday, Vice President of the FJP Essam al-Erian said neither him nor party members have information about the new cabinet formation.
"Everyone accuses us that we will form the new government, but we don't have further information than that available to everyone," he added.
"Party members are angry about absence of information on the government," Erian posted on Twitter. "Media claims that we will form the cabinet, but we are waiting for the president to declare the new prime minister."
Controversy had erupted over delay of declaring the new prime minister. Media leaks hinted that figures like Mahmoud Abul Oyoun, the former governor of the Central Bank of Egypt, and economist Mohamed El-Erian would be nominated. Ali had denied those reports.
This week a source close to the president's office denied to Al-Masry Al-Youm that Kamal al-Ganzouri's cabinet would remain in place for three more months. The source also denied any local or foreign pressure regarding the formation of the new cabinet.