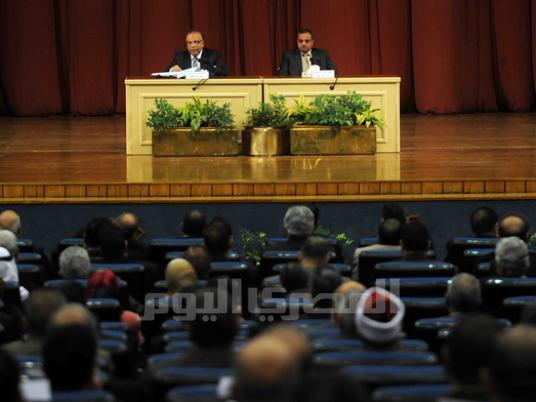 CAIRO — Egypt's new president ordered the dissolved Islamist-led parliament on Sunday to reconvene until a new one was elected, challenging the authority of the military generals who had dismissed the assembly based on a court ruling.
President Mohamed Morsy was handed power on 30 June by the generals who had been in charge since Hosni Mubarak was ousted last year. But, shortly before handing over, the army curbed some presidential powers and gave itself a legislative role.
Morsy's decision removes those legislative powers from the army and returns them to a parliament dominated by the party of Morsy's Muslim Brotherhood and its allies, analysts said.
The state news agency MENA said the military council had held an emergency session to discuss the decree. A member of the council, who declined to be identified, told Reuters the generals had not been given prior warning of Morsy's decision.
Morsy also called for an early vote once a new constitution was drawn up. That suggested a possible compromise by indicating that the assembly, criticized by some for a poor initial performance, would not serve a full four-year term.
"President Mohamed Morsy ordered the reconvening of the elected parliament to hold sessions," according to a presidential statement read out by Morsy's aide Yasser Ali.
An early parliamentary election will be held within 60 days of a new constitution being approved by the nation, Ali said.
Meetings of a body to draw up a new constitution are still in their early stages, delayed by rows between liberals, Islamists and others over who should write the new document.
Analysts said they had not expected an easy relationship between the army and the Islamist president, but believed Morsy would tread cautiously to avoid a confrontation.
"Everyone was expecting this to happen but not now, unless this decision was taken in agreement with the army council, but I doubt this," said political analyst Mohamed Khalil of Sunday's decree.
"This means he is taking legislative power from the army council and returning it to parliament. So maybe in this period he needs certain laws to empower the government or to implement the 100-day plan" for his first days in office, Khalil said.
The background to the decision was still not clear but the call for early elections could placate demands for a new parliament, he said.
"The military wanted to dissolve parliament and the Brotherhood doesn't. There has to be somewhere they can meet in the middle or there will be an indefinite stand-off and both sides will have to compromise," said Shadi Hamid of the Brookings Doha Center.
"This could be a compromise arrangement for the short term, so the military gets part of what it wanted — a new parliament in coming months — and Islamists can avoid a situation where the military dominates a legislative authority," he said.
The Supreme Constitutional Court ordered the lower house of parliament dissolved on June 14 after finding fault with the election process. The generals implemented the decision two days later and then issued a decree outlining presidential powers on 17 June, even before presidential election votes were counted.
The Brotherhood has filed a legal suit in another court challenging the ruling to dissolve parliament, arguing such a decision should only be taken with popular consent.