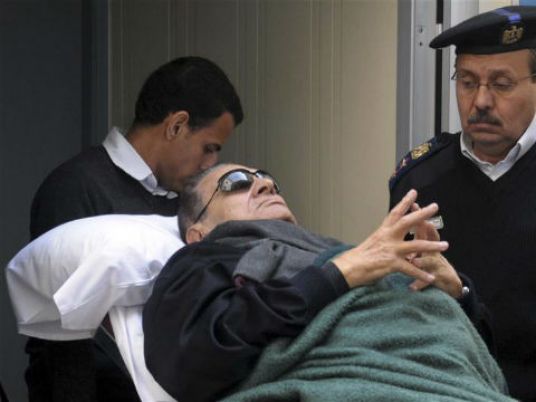 The Cassation Court postponed Thursday former President Hosni Mubarak's trial to January 21.
Mubarak was absent for his retrial on charges of ordering the murder of pro-democracy protesters who ended his 30-year rule on January 25, 2011.
The court said it had received a letter from Cairo security authorities apologizing for not bringing the former president to the courtroom. The letter said Mubarak is still recovering from a thigh fracture and needs ongoing medical attention for kidney and blood problems, noting that it would be difficult to transfer him by means other than a helicopter. The letter requested the trial be relocated to the Police Academy in New Cairo.
Mubarak, whose trial began in August 2011, was acquitted of the charges in November 2014, along with his Interior Minister Habib al-Adly and six ministry aides. Prosecutors appealed his acquittal in June, which was accepted by the Cassation Court. The court is running the final round of trial sessions on the case.
Mubarak's trial was previously held in the luxury New Cairo suburb on the eastern outskirts of the capital for security reasons.
Mubarak has been absent from a number of his trials for health reasons. He is currently serving a prison term for corruption charges at the Maadi Military Hospital.
Edited translation from Al-Masry Al-Youm