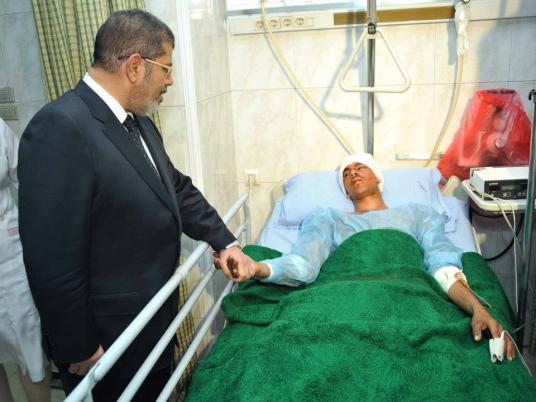 Dozens of demonstrators and political activists blocked railway lines at Ramses Train Station on Tuesday evening, after a train derailment in the Badrashin district of Giza claimed the lives of 19 central security recruits and injured 117 others.
The protest delayed about 10 trains, creating overcrowding in the station. Demonstrators rejected some travelers' attempts to convince them to allow trains to depart.
Demonstrators slept on the railway tracks and lit fires to keep warm. They chanted slogans condemning what they called the "dictatorship" of President Mohamed Morsy and the Muslim Brotherhood, such as "Down with the rule of the supreme guide" and "We will not leave, he [Morsy] has to leave."
They said they would continue their sit-in until their demands are achieved, demanding the resignation of the transportation minister and the reform of the transportation system to prevent future train disasters. Last November, more than 50 children were killed when their school bus was struck by a train near a village in Assiut.
Security forces and officials were absent from the scene as of Tuesday evening.
Earlier in the day, protesters arrived at the station to decry the Morsy government's preparedness for and response to the incident. They chanted: "The Assiut and Badrashin martyrs are children and recruits," and "O train of death, pass and remind us of the Assiut children."
Alaa Zaghloul, an activist at the protest, held up a banner reading: "Renaissance, the eradication of the people," referring to President Mohamed Morsy's campaign slogan, "Renaissance, the will of the people."
The demonstration aims to completely paralyze railway traffic nationwide, Zaghloul told Al-Masry Al-Youm.
"Maybe that way, officials will move and have a sense of responsibility toward the Egyptian people," he added.
The protesters quarreled with both railway passengers opposed to the protest and Morsy supporters earlier in the day, after which security forces intervened to prevent further clashes.
Edited translation from Al-Masry Al-Youm