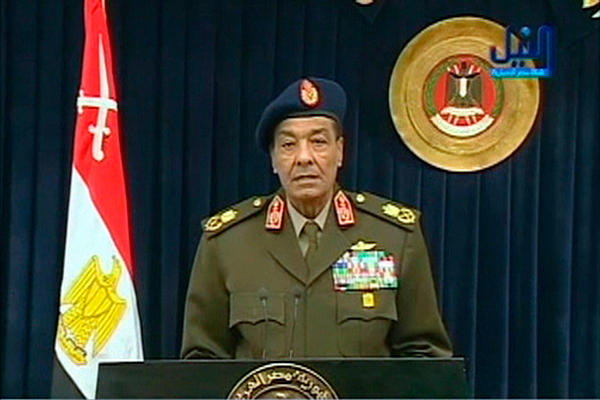 An official told state-run MENA news agency Sunday night that the Supreme Council of the Armed Forces issued a complementary constitutional declaration and will give details about the content of the document on Monday morning at 9:30 am.
The SCAF held its third emergency meeting in three days to discuss legal procedures after the election of a president.
After the meeting, SCAF head Hussein Tantawi led an Egyptian delegation that included the foreign minister and members of the military council to Saudi Arabia to attend the funeral of Crown Prince Nayef Abdul-Aziz in Mecca.
An official source said that the document would specify the powers of the president and the body before which he would be sworn, most likely the Supreme Constitutional Court.
The SCAF has postponed issuing a decision on the criteria of the Constituent Assembly after legal experts disagreed among themselves over the issue in their meetings with the military council.
According to the Constitutional Declaration of March 2011, the military council retains legislative power, even after the election of a president, until a new parliament is elected.
According to Article 56 of the declaration, the president appoints and dismisses the prime minister, the ministers, civil and military servants, political representatives and certain members in the People's Assembly and the Shura Council, represents the state at home and abroad, and issues amnesty, while the military council retains the power of legislation and the approval of the state budget after the dissolution of Parliament.
Edited translation from Al-Masry Al-Youm