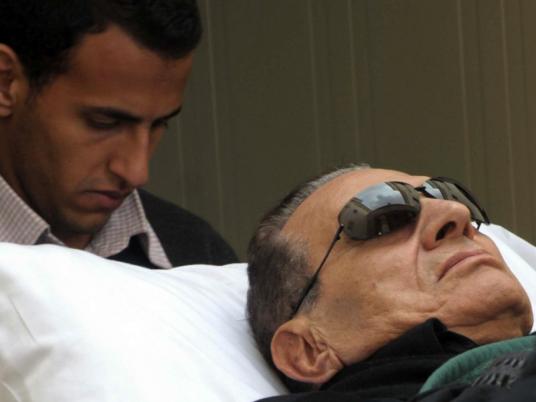 In a surprise move, one of the plaintiffs' lawyers in the trial of toppled President Hosni Mubarak addressed Mubarak, saying that Egypt returned to its people and was purged of tyrants on this day last year. Mubarak was ousted on February 11 2011.
Lawyer Al-Sayyed Hamed stood up before the trial session started and said that there is no going back, and that the day of Mubarak's ouster will be remembered in history as the day the sun of liberty rose in Egypt's skies, Al-Ahram's news website reported.
Mubarak, his two sons, Alaa and Gamal, and former Interior Minister Habib El-Adly, together with his six assistants, are facing various charges that range from ordering the killing of protestors to acts of corruption.
The court session began at 10 am by hearing the lawyers representing the eighth suspect, former head of state security Hassan Abdel Rahman, who is accused of plotting to kill protesters during Egypt's revolution.
Khaled Soliman, of the Rahman's defense team, told the court that his client should be acquitted because he had nothing to do with killing protestors, state TV reported.
Soliman said that the now disbanded State Security Investigations Service did not engage in securing or breaking up protests on the ground since their main task was to collect information.
Dozens of Central Security Forces staff were deployed around the Police Academy, where the trial is being held.