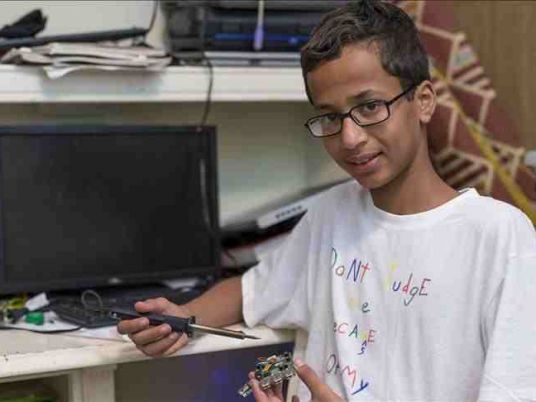 The US high school which called the police when a Muslim student arrived with a homemade clock has asked the ninth-grade teen to do the homework from the classes he was suspended from.
Ahmed Mohamed, a 14-year-old Sudanese Muslim, was handcuffed, arrested and fingerprinted by police at the MacArthur High School in Irving, Texas earlier this week after a teacher mistook his homemade clock for a bomb.
The school also hit the teen with a three-day suspension.
The controversy raged all last week but his parents were shocked when they were summoned to the school to take delivery of overdue homework from their son's missed classes.
His mother, Muna Ibrahim, and father, Mohamed El-Hassani, went to school late Friday to collect the homework.
Speaking to Anadolu Agency after collecting his son's homework Mohamed El-Hassani said that they did not discuss the clock controversy with the school management.
He said that Ahmed would definitely transfer from MacArthur High School but that he would continue with his classes at home.
El-Hassani added that they received several offers from other schools to transfer Ahmed but that his son would request a week's leave from MacArthur to reach a decision over his future.
During the family's visit to the school, dozens of people protested against the management in front of the building by carrying clocks.
Several drivers passing the school sounded their horns in support.
Police lifted their investigation on Wednesday. By then Ahmed Mohamed's story had already made headlines and generated a storm on social media.