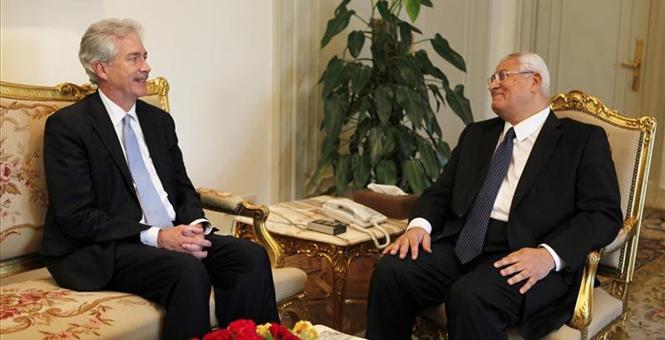 The United States has called on the Egyptian military to avoid politically motivated arrests, U.S. Deputy Secretary of State William Burns said on Monday in Cairo.
Burns called on the military to refrain from politically motivated arrests, after a crackdown on the Brotherhood included arrest orders against several leaders. Morsy himself has been in detention at an undisclosed location since he was deposed.
"If representatives of some of the largest parties in Egypt are detained or excluded, how are dialogue and participation possible?" Burns asked. He also urged those opposed to Mursi's ouster to participate in the political process peacefully.
Burns also stressed that the U.S. would not take sides in Egypt's upheaval.
The U.S. official, in Cairo on a visit to meet Egypt's interim leaders, the military and members of the business community, stressed in a briefing at the U.S. embassy that it was up to Egyptians, and not the United States, to steer the country to civilian rule.
The military ousted Islamist President Mohamed Morsy on July 3 after millions of people took to the street to demand his resignation. His Muslim Brotherhood movement has denounced the move as a coup and staged a series of large protests since then.
"We don't take the side of particular personalities or particular parties," said Burns, making the first high-level visit to Egypt by a U.S. official since Morsy was toppled. "I did not come with American solutions, nor did I come to lecture anyone. We will not try to impose our model on Egypt."
He also said he did not believe Egypt would go down the Syrian path into all-out civil war, despite violent protests involving Morsy's supporters and opponents that have killed dozens of people.
"I don't think that Egypt is in danger of repeating the tragedy that we see in Syria today," he said.
Burns is the first senior U.S. official to visit Egypt since the army removed President Mohammed Morsy on 3 July.