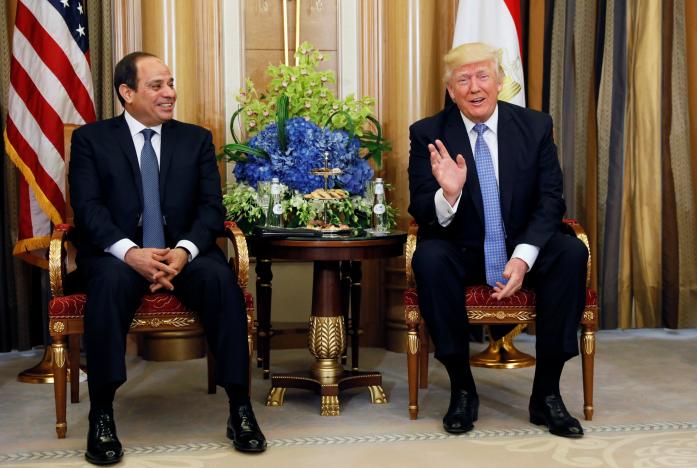 Thomas Goldberger, Chief of Mission and Chargé d'Affaires of the United States in Egypt, denied press reports saying that Sinai will be part of in the Deal of the Century, which, it has been alleged, will allocate part of the peninsula to Palestinians. Goldberger said that the rumor was baseless and that the Sinai projects will serve Egyptians only.
He praised Egypt's efforts in the fight against terrorism, stressing the importance of Egypt-US ties.
He praised Egypt's energy boom, which has made it an important site for gas exports.
During a press conference at the US embassy in Cairo, Goldberger said that US President Donald Trump said that since he assumed the US presidential office, he has been committed to resolving the Palestinian-Israeli conflict, which is why he formed a working group to conduct intensive consultations with the countries of the region.
He added that the US will suggest a new approach, the details of which have not yet been revealed, to achieve Palestinian aspirations while at the same time achieving security for Israel and thus achieving stability in the region.
Washington is waiting for the right time to bring the deal to light, he said.
The relations between the United States and Egypt are very good, especially between President Abdel Fattah al-Sisi and US President Donald Trump, he said.
He referred to strong cooperation on the security and military levels, especially between the intelligence and security agencies in the fight against terrorism.
On the prospects of US investment in Egypt, Goldberger explained that there are many American companies already operating in Egypt, and others that are interested in entering the Egyptian market of 100 million persons in light of its positive growth rates.
Goldberg said Egypt and the US could also potentially cooperate in the fields of energy, information technology and infrastructure, and education, with many American universities interested in operating in Egypt.
Edited translation from Al-Masry Al-Youm