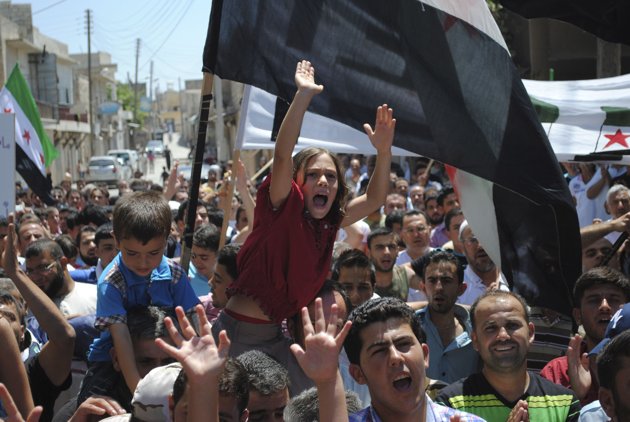 After the Russian and Chinese veto of a UN resolution on Syria, America must use back channels to bolster its support for rebel forces as US military involvement is not an option, analysts said.
Although the conflict is intensifying, Moscow and Beijing opted Thursday to oppose for the third time a UN Security Council proposal that could have placed sanctions on Syrian President Bashar al-Assad's regime.
The rejection angered the West and prompted the US to state that it would now act outside of the council to confront Assad, although Russia insists such action would undermine the authority of the UN.
Experts, however, believe US support from behind the scenes is the only way to place the necessary pressure on Assad that could ultimately deliver the democratic transition that Washington and other Western nations seek in Syria.
"The US and other key actors need to step up their covert support for the opposition," said Salman Shaikh, director of the Brookings Doha Center.
"There needs to be a decision made now, a very clear decision: do you support these guys, or do you let them be routed over a period of time?"
The US has repeatedly ruled out military intervention in Syria.
And although Washington can probably not supply rebel forces with arms — as Saudi Arabia and Qatar have done — the United States has "elements and options which it can use," such as hi-tech communications and intelligence, the analyst said.
"Whether it has decided to use them, I am much more skeptical," added Shaikh, whose work focuses on mediation and conflict resolution in the Middle East.
"We are now entering a very critical and dangerous phase on the ground. The regime is going to be unleashing increasingly all of its firepower."
In the wake of the Russian and Chinese veto, US Ambassador to the UN Susan Rice said Washington would "intensify" its efforts "outside the Security Council" to bring pressure to bear on Assad, and assist "those in need."
A spokesperson at the US State Department, Patrick Ventrell, echoed Rice's remarks, noting that the UN route was only "one part" of the US strategy to secure political change in Syria.
"We have many partners who will continue to work with us outside the Security Council," he said, referring to the Arab League and more than 100 countries from the Friends of Syria grouping.
Some 16 months into the conflict, however, Assad remains in power and his forces on Friday unleashed an all-out assault on opposition strongholds in the capital Damascus, where the rebels have made inroads in recent weeks. .
Richard Haass, president of the Council on Foreign Relations think tank and an experienced former US diplomat, said failure to agree on a UN resolution does not preclude Western nations from pushing for Assad's exit through other means.
These could include building up the political appeal of Syria's opposition and pushing for war crimes indictments against Assad and his inner circle, as well as planning for strikes against Syria's chemical weapons.
"The United States and other like-minded governments should not equate the United Nations with multilateralism, nor should they see the UN as having a monopoly on legitimacy," Haass, who succeeded George Mitchell as the US special envoy for Northern Ireland, wrote in an article on the think tank's website.
"To the contrary, they should form a coalition of the willing and able, composed of NATO countries, selected Arab governments, and others that are committed to increasing sanctions against not just Syria but those countries supporting it."
However, Paulo Sergio Pinheiro, a Brazilian diplomat and president of a UN panel probing human rights abuses in Syria, said such an initiative organized outside of UN auspices, such as through NATO, was "impossible."
"A foreign military adventure would be a disaster for Syria and its neighbors," he said, noting US President Barack Obama's continued unwillingness to back military intervention.