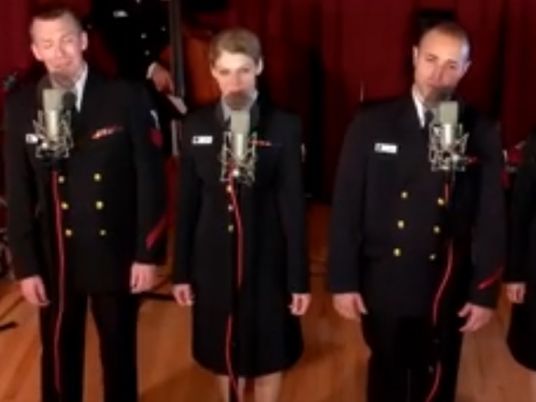 The United States Navy Band published on their official youtube channel a video of a rendition of the iconic Egyptian song "Fiha Haga Helwa" (There is Something Special About Egypt).
The video has gone viral on social media and was heavily shared by Egyptians, who praised the singing and admired the band's Arabic accent.
One of the band members introduces the song, saying "It is our pleasure to perform this special song, which celebrates the beauty, enticing culture and sweet spirit found throughout the land of Egypt. Here is: 'Fiha Haga Helwa'."
Moreover, the US Navy Band released a post on its official Facebook page saying that "an important part of the Navy music mission is expanding and strengthening our US navy's network of partners. A very effective way of achieving this is by performing the music of other nations in their own language."
The song has mainly been performed in front of the chief of general staff of the Egyptian Armed Forces, Mahmoud Higazy, along with a senior delegation during their official visit to the United States earlier this year.
"Fiha Haga Helwa" was originally released in 2010 as part of a movie about an Egyptian man who returns home after 20 years in the US. When he first arrives in Egypt, he faces several troubles at the begining, but still there are many beautiful things and blessings enough to make him stay.
The song is performed by the iconic Egyptian composer Omar Khairat and the Egyptian singer Riham Abdelhakim.