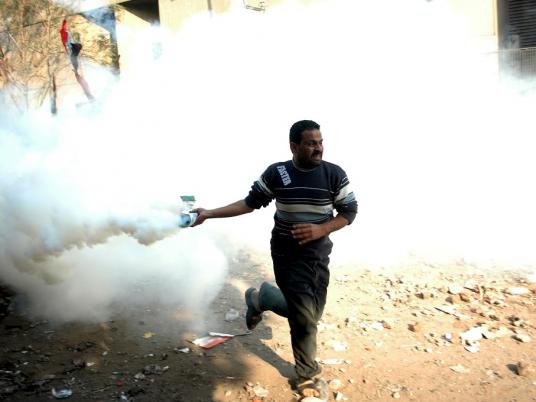 US State Department spokesperson Mark Toner defended on Tuesday the shipment of tear gas to the Egyptian government.
Toner told reporters that Washington has not found any evidence that Egypt misused the tear gas canisters.
Security forces deployed the noxious gas in an attempt to quell protests in Tahrir Square, prompting clashes last week.
Adiba harbor authorities in Suez allowed a shipment from the US to the Interior Ministry to enter Egypt Tuesday, despite protests by the harbor's customs workers.
Washington had earlier agreed to export the gas, which Egypt paid for, to the Interior Ministry and no US security aid was used in the purchase, Toner said.
Toner said the tear gas exported to Egypt is the same used by police in several countries, including the US.
Washington condemns any misuse of tear gas canisters anywhere that would lead to death or injury, Toner said, adding that any misuse would affect future export agreements.
The Egyptian Center for Economic and Social Rights said in a statement Wednesday that it has filed a report with the attorney general against Prime Minister Essam Sharaf, Interior Minister Mansour al-Essawy and the legal representative and executive director for the US manufacturer of the tear gas.
The organization is requesting laboratory tests of samples from the shipment to ensure they do not contain chemicals deemed health hazards.
The center has also filed a lawsuit with the State Council to demand that only water be used to disperse protests, according to the statement, which urged authorities to "immediately stop the use of these weapons, which subject the life of peaceful protesters to danger."
The center rejects any action against port employees for their "patriotic and humanitarian" stance and called on the government to stop any investigations against them.
Translated from the Arabic Edition