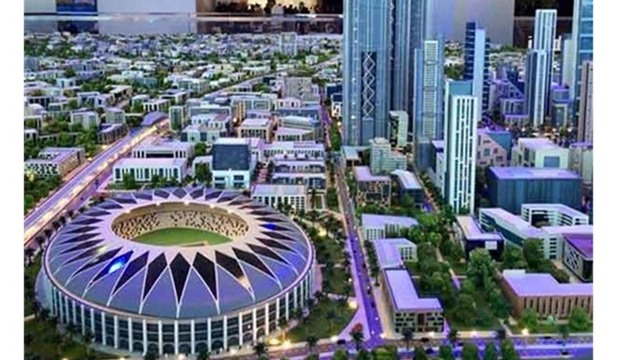 Egyptian Housing Minister Asem al-Gazzar announced Wednesday that 60 floors have been constructed thus far in the Iconic Tower, the tallest tower in Africa at 400 meters, in the New Administrative Capital's central business district.
The district includes 20 towers, with its total investments estimated at about three billion US dollars. It is being implemented in cooperation between the Housing Ministry represented by the New Urban Communities Authority and the China State Construction Engineering Corporation (CSCEC) – one of the largest contraction companies in the world.
Gazzar added that around 33 percent of constructed work has been finalized in the three sectors of the Cairo Capital Central Park.
The Central Park in the New Administrative Capital is the largest central park in the Middle East, and the second largest in the world at 10km long with a planned area of approximately 1,000 acres. It is set to provide recreational areas on par with international standards.
The Capital Park project is divided from east to west into three planning sectors, each of which contains a park with a different focus.
The first is the History and Gateway Park, at an area of 375 acres consisting of more than 250 acres of open areas for picnics and outdoor activities and other space allocated to house a mosque, botanical gardens, a bedouin camp, and an iconic monument plaza.
The second park is dedicated to health and sustainability, and features jogging trails, multi-sports fields, a wetlands park, and a community garden. With an area of 306 acres, this park will be a major hub for community and recreational activities.
The third sector of Capital Park is home to Civic Park, which has an area of 309 acres.
It will include riverfront restaurants and retail shops, a sculpture garden, a ferris wheel, an open library with reading gardens, and the recreational sports club. This park is on the edge of the new capital's central business area.
And the Housing Minister announced that 91 percent of work has been done for the third residential neighborhood, the Capital Residence, while architecture and electromechanical work for the first and eighth neighborhoods have been completed and general site coordination is underway.
He explained that the third residential neighborhood has an area of 1016 feddans, with eight neighborhoods.