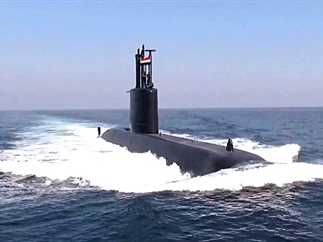 The Egyptian Navy on Tuesday celebrated the inauguration of the S-44 submarine, the last of four Type 209/1400mod class submarines from Germany.
It will soon join the Navy's arsenal, after it was built at the ThyssenKrupp Marine Systems company in the German's city of Kiel.
The Armed Forces said in a Tuesday statement that this move is part of continued efforts to support the army's combat and technical capabilities, developed in accordance with the latest global combat systems.
https://www.facebook.com/EgyArmySpox/posts/2120643558066615
Three of the German submarines joined the Egyptian Navy's service according to a specific schedule.
Specialized and technical crews working on the project were qualified in record times, based on a simultaneous program in Egypt and Germany to become familiar with the latest developments in submarine technology.
Egypt's Naval forces during this period placed extra effort into training to carry out all the tasks assigned to them by the General Command of the Armed Forces with efficiency and competence.
Egyptian Navy Commander-in-Chief Vice Admiral Ahmed Khaled Hassan Said that this type of submarine falls under an Egyptian military strategy that seeks to better face challenges in the region, preserve the nation's capabilities, and achieve full control over Egyptian coasts in the Red Sea and the Mediterranean Sea.
In December 2017, Egypt received the first 209/1400 Submarine in Kiel.
This came as part of a deal for four submarines signed in 2014 between the two nations to help protect Egypt's national security by supporting the navy's technical and combat capabilities.
According to the Global Fire Power website, the Egyptian naval fleet includes about 320 marine vessels, including two aircraft carriers, seven corvettes and four submarines, in addition to 50 patrol ships and nine frigates.