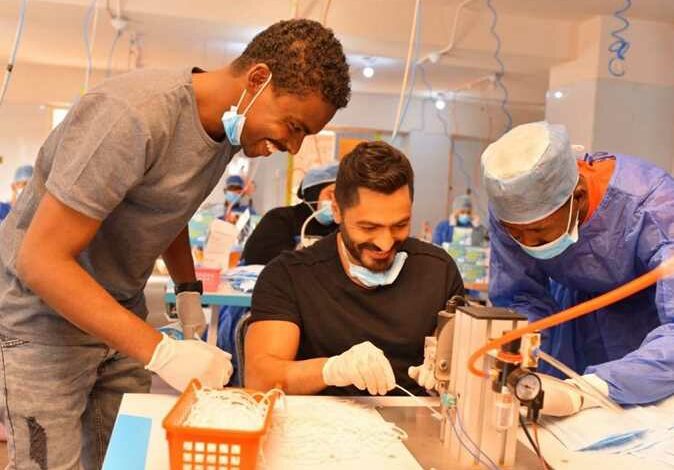 Egyptian singer and actor Tamer Hosny has participated in the "Not Just a Refugee" program by the United Nations High Commissioner for Refugees (UNHCR) as part of the World Refugee Day on June 20 each year.
The "Not just a refugee" program highlights the stories of refugees and their different skills to showcase the role they play in Egyptian society.
Hosny visited a medical fabrics factory that embraces Egyptians, refugees and migrants of different nationalities.
On his visit, Hosny expressed his happiness with this model established by Egyptian youth as a good example for all investors regarding refugees and migrants.
"I am proud that this model is Egyptian, and that everyone in the factory unites them with real family feelings," Hosny said, stressing that the refugees and immigrants are part of society, not a burden.
The day was special for the Egyptian, Sudanese and South Sudanese workers, who were overjoyed at seeing their favorite star giving them a special visit.
"Today I am unusually happy because I was able to meet the artist Tamer Hosny, the beloved of the Sudanese people," Mahdi from Sudan said.
The Capitol Investments Factory was established in August 2020 to produce facemasks and various medical fabrics, and its founders pledged to support refugees and migrants and provide them with a source of livelihood to meet their needs.
Omar Abdel Hakim, a lawyer and one of the founders, says: "I am the real beneficiary of the presence of refugees and migrants in the factory, because all their time is for work and they always have a desire to prove themselves and develop the factory, and therefore I'm, as an investor, happy with this experience."
"Not just a refugee" includes five different events dealing with the skills of refugees and highlighting their skills such as drawing, playing football and working with dedication to provide a decent life for their families.
These events are posted on social media from June 20 to June 30.
Egypt hosts more than 262,000 refugees and asylum seekers registered with the UNHCR from 58 different nationalities, most of whom were already among the neediest groups before the spread of the COVID-19 pandemic.
These refugees were more affected by changing conditions that the world experienced during the past year, as many lost their source of income and have not been able to continue to provide for the basic needs of their families.
The UNHCR helps refugees and asylum seekers to support themselves and their families by providing them with training and helping them find a market for their skills and goods.