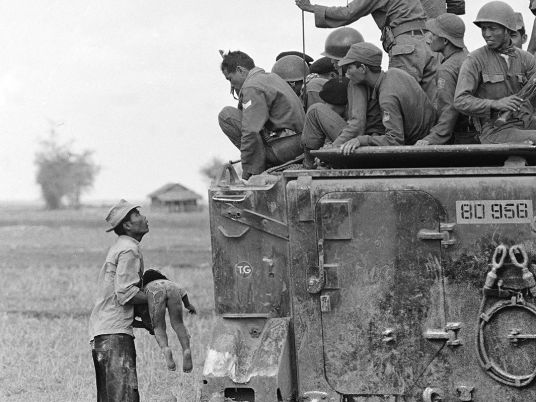 Grubby satchels, helmets, rusty knives and chunky radios are strewn around Dinh Van Loc's front room, transforming his house in Vietnam's capital into an abandoned battlefield.
For Loc, these are treasured items amassed over the years, rooted in a teenage fascination with the country's devastating war with the United States that ended nearly four decades ago.
The 32-year-old's obsession with combat zone memorabilia is a rare one in Vietnam, where the vast majority of its 90 million people were born long after the war. And those who do remember it chose to move on.
"These things help me feel the lives of the soldiers," said Loc, the proud owner of more than 2,000 war souvenirs. "That's what drove me to collecting."
He points to etchings on unused ration tins retrieved from the front line, some bearing the names of soldiers and their lovers or crude scratchings meant to resemble Hanoi landmarks.
"I can feel some of the atmosphere of those days," Loc said. "I can see what they were thinking, their emotions, how they were missing their parents."
Postwar generations in communist-run Vietnam are proud of their heritage, schooled in the same ideology as their parents, but are increasingly seduced by the tokens of capitalism – smartphones, couture and flashy motorbikes.
Still, the wounds of war have not entirely healed and collector Lai Dung says it's important that future generations don't forget the war that killed several million Vietnamese.
The 32-year-old mattress maker scours tables at a makeshift Hanoi market each Sunday where Kalashnikov rifle parts, missile tails and boxes of ammunition vie for attention with uniforms worn by Vietcong fighters and sandals fashioned from car tires.
There are plenty of American souvenirs too – dog tags, bayonets, watches, and even a chunk of a downed U.S. plane.
"These are relics from the time when our parents sacrificed themselves for our country, allowing us to enjoy our lives in peace," said Dung. "We can see the value of our lives now."
War veteran Vu Van Bao said his visits to the market stirred memories of his contribution to the war, which pitted his communist North against the U.S.-backed South and ended with the fall of Saigon in April 1975.
"When I see these things, I'm reminded of unforgettable memories with pride," said Bao, 62, pointing to metal U.S. helmets on sale. "I used to cook my vegetables in them."