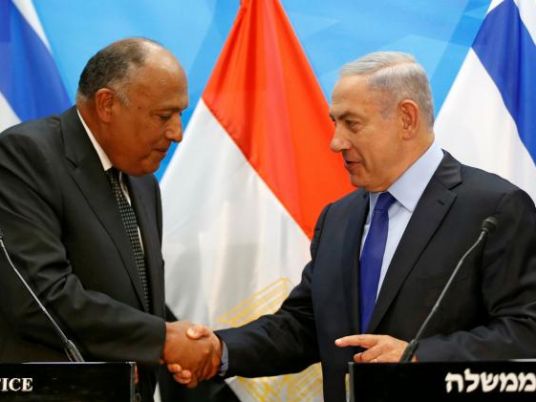 Egypt's Foreign Minister Sameh Shoukry has spoken in defense of his visit to Israel last week, which
sparked large criticism on social media, saying that the visit was in the interests of the Palestinian people.
Some members of the Egyptian public called for Shoukry to be removed from office following the trip.
Shoukry held extensive talks with Israeli Prime Minister Benjamin Netanyahu on Sunday evening, in a visit to Tel Aviv to discuss matters of regional conflict and to restoke peace talks with Palestine.
During the visit's press conference, Israeli government spokesperson Ofir Gendelman quoted Netanyahu as saying that the Egyptian foreign minister's visit was important for many reasons, not least because it marked a shift in Egyptian-Israeli relations and a proactive response to Sisi's recent call for advancement in the peace process.
During his visit, Shoukry appeared in a photo with Netanyahu watching the final match of the UEFA European Football Championship.
"[The visit] was to achieve the ambitions of the Palestinian people. This was the demand of the Egyptian people of its government: that the Egyptian government be supportive of the Palestinian case," Shoukry told reporters in Kigali, Rwanda, on the sidelines of the 27th Ordinary Session of the Assembly of the African Union.
The Palestinians have welcomed Egypt's efforts to present the Palestinian case clearly to Israel, asserting their right to an independent state with East Jerusalem as its capital, he said. According to Egypt's policy, this is our role and responsibility, he added.
Since a peace treaty signed between the two counties in 1979, Egypt and Israel have been at peace. Nonetheless, relations since that point have been described by some as "cool".
After the January 25 revolution, there were widespread calls for an amendment to the terms of the treaty, to allow more Egyptian troops into the Sinai Peninsula.