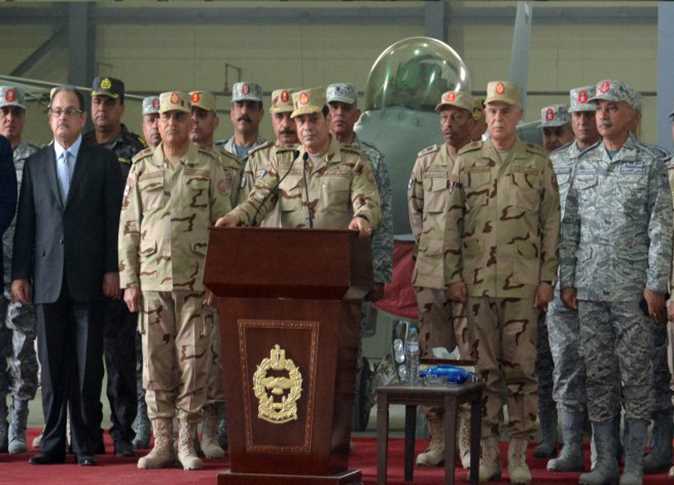 During a visit to the Sinai to honor the efforts made by the army and police in their fight against terrorism, President Abdel Fattah al-Sisi instructed the army to use all necessary force to root out militancy in Egypt.
"We will come here soon to celebrate the victory over the Kharijites ['secessionists' from Islam] of this era," he said during a visit to an airbase in Sinai.
During the visit, Sisi met with the country's Armed Forces and police stationed in the peninsula who have participated in the  'Sinai 2018' counter-terror operation there, which was launched in February. The president had breakfast with them and later also performed Friday prayers.
Sisi commended the coordination and good cooperation between the armed forces and police to monitor and track terrorist cells while also lauding the implementation of successful pre-emptive strikes against terrorist elements.
He listened to an explanation from Air Force pilots about the nature of the tasks entrusted to them and praised the important and vital role carried out by them.
Sisi was accompanied during the visit by Defense Minister Sedki Sobhi, Interior Minister Magdi Abdel Ghaffar, Chief of Staff of the Armed Forces Mohamed Farid, and other senior leaders of the armed forces.
"The development process in the Sinai will be achieved by God's will, and the state is eyeing the continuation of its development, the cost of which is estimated at LE275 billion. We have completed the establishment of an airport in Sinai as one of the pillars of development in the coming period," he said.
The president listened to the views and queries of soldiers, stressing that the recent period has aimed at stabilizing the pillars of the state and rebuild confidence and morale of the Egyptian people.
Launched on February 9, the Sinai 2018 counter-terror operation has aimed to comprehensively confront terrorist and criminal elements and organizations in North and Central Sinai, as well as in other areas in the Nile Delta and the desert west of the Nile Valley.
Since 2014, North Sinai has witnessed a growing number of terrorist attacks carried out by Islamic State-affiliated (IS) group Sinai Province, including various attacks against the army and the police.
Edited translation from Al-Masry Al-Youm