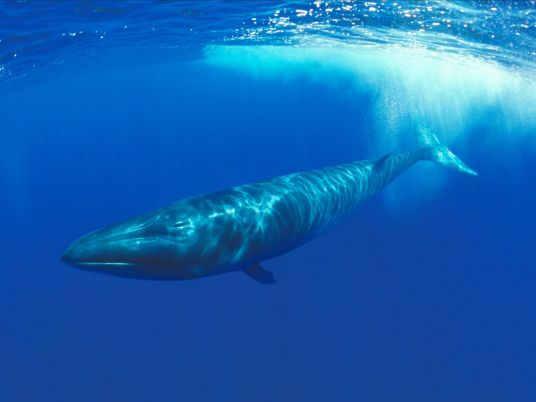 A fin whale seen at the Marina resort on Egypt's north coast on Tuesday and Wednesday is not aggressive or dangerous to humans, the Environment Ministry said in a statement on Thursday.
A team of experts from the ministry visited the area after reports appeared online that a small whale had been sighted swimming in the waterways of the Marina resort, with some bathers apparently afraid of the creature.
The team explored the area, investigating the whale sighting and gathering data on its species and behaviour, according to the statement.
The team inspected the area where the whale has been sighted by tourists, collecting video footage taken by visitors who had seen the small whale swim around the resort's waterways.
The video footage shows a fin whale, a particular species of (toothless) baleen whale that lives in Egyptian waters and is listed as an endangered species.
The ministry said that several types of whale can be found in the Mediterranean Sea, including Egyptian waters, but they are not dangerous to humans and have no history of aggressive behaviour toward humans.
The ministry called on beachgoers not to act aggressively toward whales, and to avoid any actions that might be a nuisance to them.
The ministry also called on citizens to take video footage of whales and large sea creatures, such as dolphins, sea turtles and exotic fish, in order to assist officials with monitoring marine life. Any footage taken of such creatures should be sent to the ministry along with details of date and location in order to help build evidence of Egypt's rich biological diversity, they said.
Fin whales are the second largest animals earth, second only to blue whales. They normally grow to around 20 meters in length and weigh around 70 tonnes. They were hunted extensively in the 20th century, with around 700,000 killed by whalers between 1904 and 1975. Now, only Japan and Iceland hunt this endangered species.
Fin whales are filter-feeders, obtaining food by filtering water through baleen plates in their mouths. Unlike killer whales, they have no teeth with which to hunt and catch prey.
Whales occasionally venture into the shallow waters off Egypt's coast, with some washing up dead on shore. In May, a dead sperm whale was washed up on the beach close to Marsa Matrouh.
Worldwide, whales face a number of threats to their existence, including overfishing, pollution and the use of naval technologies such as sonar that can damage the ears, brains and other tissues of whales, causing them to beach and die.