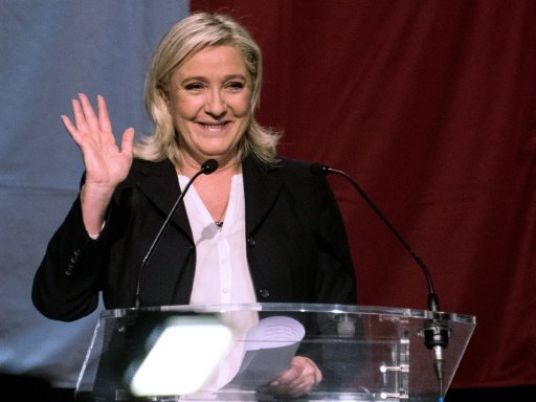 The far-right's rising star Marion Marechal-Le Pen might well walk up the steps of the world-famous Cannes Film Festival in southeast France next spring as leader of the region, if she wins elections there on Sunday.
Her National Front (FN) pulled off a historic win last weekend, topping the vote in the first round of regional polls, in a breakthrough that shook up the country's political landscape before 2017 presidential elections.
If it wins one or more regions in Sunday's run-off, that would be a first for the party, leaving the French public and much of the wider world to contemplate: what would happen in a region ruled by the far-right?
The anti-Europe, anti-immigration party certainly plans measures to please its grassroots supporters; regional subsidies to charities helping migrants would be axed, for example, while schools would be restricted in offering alternatives to pork in their canteens.
Marechal-Le Pen – who is more conservative than her aunt, FN leader Marine Le Pen – has said she would scrap aid to family-planning organisations.
The actions of FN politicians who became town mayors last year might also offer clues – David Rachline took down the EU flag from the front of Frejus town hall in southeastern France, while Steeve Briois ended the practice of giving a human rights
group free use of municipal premises of Henin-Beaumont in the north.
But any changes are likely to be largely symbolic. The FN aims to use any regional wins as a platform in its quest for national power in 2017 – so it will not seek to implement its national manifesto, but rather seek to prove it can responsibly govern large constituencies, and offer stability.
"The key word will be pragmatism, not ideology," Marine Le Pen told a last campaign rally on Thursday evening, after opinion polls showed her party's prospects have waned since the first round and that tactical voting could keep it out of power in its key target regions.
Since Le Pen took the FN over from her maverick, ex-paratrooper father Jean-Marie in 2011, she has strived to build a base of locally elected officials to help "de-demonize" the party and target the 2017 national elections.
"High schools will still be built, trains will still run, vocational training will still be carried out," political analyst Joel Gombin, a specialist of the far-right, said of the French regions' main areas of responsibility.
"But to attract attention and strengthen their political hold they are set to carry out symbolic decisions that cost nothing but are highly visible. They will stage the 'FN against the system' line," he said.
'Respect the law'
While regional councils have no direct powers over France's migration policy, the FN's top candidates have said they would act the only way they can at that level, by putting an end to any subsidies for non-governmental organisations (NGOs) that help migrants.
"It makes no sense economically that public money goes to help foreign workers and migrants in a region where unemployment is higher than national average," Marechal-Le Pen told Reuters in an interview last month.
She said she would also scrap development aid subsidies and use the money instead to boost exports for French firms. Along the same lines, her aunt Marine's electoral leaflets deride the northern France region's financing of schools in Africa, calling them "unbelievable" examples of wasted money.
Marechal-Le Pen has also said that she would stop subsidies to family-planning charities, which she accuses of being politicised and of promoting abortion.
But while symbolically significant, such subsidies are but a small share of regional budgets.
A detailed list of the subsidies handed out last year by the Provence-Alpes-Cotes-d'Azur region where Marechal-Le Pen is the main FN candidate shows about 68,000 euros (US$75,000) of subsidies to three migrant workers' associations. And about 190,000 euros went to NGOs that advise women on issues such as contraception and abortion.
That's out of a total annual budget of around 2.2 billion euros for that region.
In the northern France region where Le Pen is a candidate, for each 100 euros of the region's budget this year, 65 go to transport, schools and vocational training, 5 to economic development, 5 to subsidies, 4 to culture and 2 to sports. The rest goes to various other projects.
Education Minister Najat Vallaud-Belkacem said this week she was worried about what would happen to high schools if the FN won regional power. Regions have no power over the curriculum but are in charge of everything else, from maintaining buildings to organizing canteens.
Vallaud-Belkacem said she feared debates over school canteen food would resurface – with the issue of whether alternatives should be offered when pork is on the menu – and worried FN-led regions could discriminate against non-French children.
Le Pen's 115 page-long program for the Nord-Pas-de-Calais-Picardie region says French secularism would be "strictly implemented". Schools that currently do not offer alternative menus should not introduce them, according to the plan. Those that do should only be allowed to continue doing so if there are "nutritional reasons", it says, without elaborating.
But the FN will not go further than such steps, party officials and analysts said, as it is keen not to repeat the mistakes made in the 1990s, when illegal measures such as one municipality giving handouts only to European children were struck down by courts and damaged the party's credibility.
"We will absolutely respect the law until we are in government at the national level and can change it," said Marechal-Le Pen.