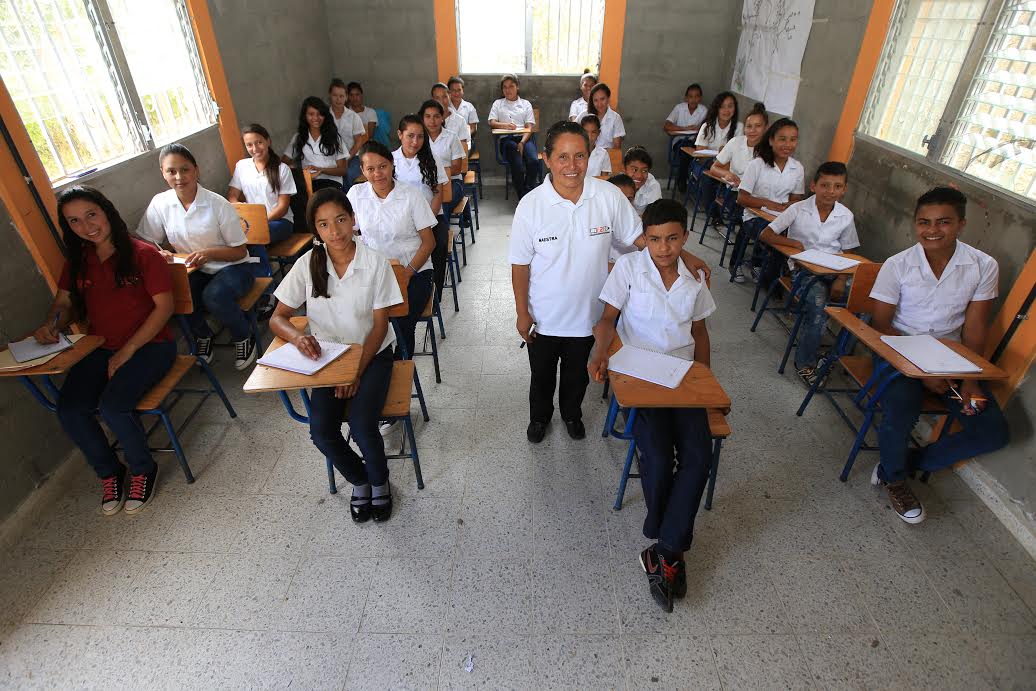 Eliezer Rodriguez has broken the gloomy cycle faced by so many young people in his community. The 17-year-old teenager is completing his secondary education at the Francisco Morazán school in the village of El Zurzular in Cantarranas municipality, southern Honduras, without having to walk for four hours or cross a river.
Today he sees a promising future for himself. Instead of learning a trade to help his family, like the majority of youth from his village, his dream is to go to college and train as a Spanish or math teacher.
The person responsible for the change in Eliezer's life is Katia Gomez, a young American woman who, after several years of volunteer work throughout Latin America, has realized her dream by establishing a social enterprise in Honduras.
Katia's project is called Educate2Envision (E2E), an educational program that aims to train entrepreneurial leaders. Since 2010, it has changed the lives of around 100 students from the rural communities of Francisco Morazán and El Paraíso in the country's south.
Of the 5,000 people that inhabit these villages, the majority have never been able to complete secondary education.
The 100 or so students (among them Eliezer) that have been educated, thanks to the support of E2E since 2010, represent 80 percent of all secondary school graduates in these areas.
"Our challenge is to change the mentality of these children, to show them that they can become professionals and help their community," says Alex Agurcia, E2E's chief operating officer.
A dream come true
Before E2E, students who wanted to study at secondary school had to walk up to four hours to attend class at an education centre. Now they are offered a space to study at the local elementary school, where they are able to complete sixth grade.
The first requirements for applicants include having an outstanding academic record, being single and between age 12 and 18. E2E representatives then conduct an interview with the applicant's parents, and a socioeconomic survey to assess their background.
In addition to this, each candidate must also present their birth certificate and grades from their last school year, accompanied by an essay in which they explain the reasons for wanting to continue their studies. These documents are submitted to the E2E board of directors and it is then decided whether or not to award the scholarship.
The organization receives financial support from both the Rotary Club in the USA and Banrural in Honduras, enabling E2E to provide the selected students with the necessary materials and cover a minimum of 60 percent of their tuition fees. This amount increases gradually each year.
These young people are the champions of E2E. They become community leaders and act as an example for children who aspire to build their future. They are shaped to become socially minded entrepreneurs, equipped with strategies to overcome their obstacles. E2E's students later go on to become volunteers for the organization too.
How do they do it?
The project management training these students receive from the E2E team helps young people like Eliezer to discover their entrepreneurial spirit. To achieve this, they take advantage of goods that are locally produced to form micro-enterprises.
This approach has already borne fruit. Around 70 percent of the students live in regions that predominantly produce coffee, where families generate income during the harvest season, which they are reliant upon to sustain themselves for the rest of the year.
Students help their parents cut the coffee they have grown. These coffee beans are then bought by businesses in the United States, contacted by representatives of E2E, at an above average price for the market.
This coffee is sold under the brand name Adelante Coffee and operates as a means to fund education in the communities; contributing towards the cost of student fees and thus helping to avoid reliance on donations.
Seventy percent of the profits from the sale of Adelante Coffee go toward supporting educational funding in each community. These funds help to cover the scholarships for young people whose families can't afford to pay, many of whom are single mothers.
But E2E accomplishes much more than offering a future to young people. Students also practice social work by sharing what they know through the implementation of community projects in each village that participates.
"We don't just stay in the classroom, we go out to help our community. For example, we installed an electrical system for the church; we have also built toilets and we help the elderly with food and assist with some of their other needs," Geydi Velásquez, a student from the Las Delicias community, says proudly.
Prevention campaigns for diseases such as dengue, zika and chikungunya, sexual and reproductive education for girls, infrastructure works and tutoring for elementary students are all part of the community impact work taken on by these future professionals.
"I want to be a teacher. E2E is still supporting me, even though I have finished secondary school. Now I'm studying for my baccalaureate. I'm getting closer and closer to fulfilling my aspirations, I am happy," Ariel Cardona shares with a smile. He is one of the youth leaders in Pajarillos.
Eliezer, Geydi and Ariel are all living proof that education can change lives. They, through their own efforts, are transforming their communities and forging a bright future for the thousands of children fighting to stay in school despite their poverty.
http://www.educate2envision.org/our-story/
This article was originally published in El Heraldo and reposted by Egypt Independent as part of our participation in Impact Journalism Day on which 50 of the world's leading newspapers feature 60 social innovators who come up with innovative, beneficial solutions for better access to health and education, respect for the environment, good nutrition, sustainable energy.