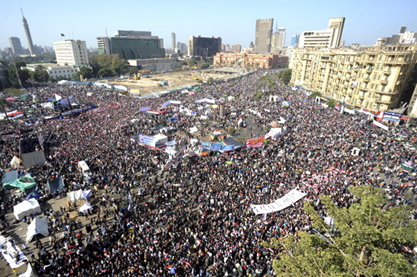 ABOARD AIR FORCE ONE –– The White House on Friday condemned the rape and assault of women at recent demonstrations in Egypt and called on the Cairo government to prevent sexual violence and prosecute those responsible.
The New York Times reported that on 25 January, the second anniversary of the Tahrir Square revolution in Cairo, at least 18 cases of sexual assaults were reported by human groups.
White House deputy press secretary Josh Earnest told reporters that the United States is deeply concerned at reports of rapes and sexual assaults in public squares in Egypt.
"Sexual violence including gang rape has occurred during recent demonstrations in Egypt. This is a cause of great concern to the United States, the international community and to many Egyptians. These victims are mothers, wives, daughters and sisters of Egypt," he said.
Earnest, speaking on an Air Force One flight that carried President Barack Obama from Washington to an event in Miami, said the Egyptian government has a responsibility to take legal measures to prevent sexual violence and to prosecute people who are involved in such crimes.
"The idea that some Egyptians are blaming the victims for being raped and assaulted is abhorrent. We strongly condemn these views and reaffirm the rights of women to express themselves in public squares alongside men," he said.