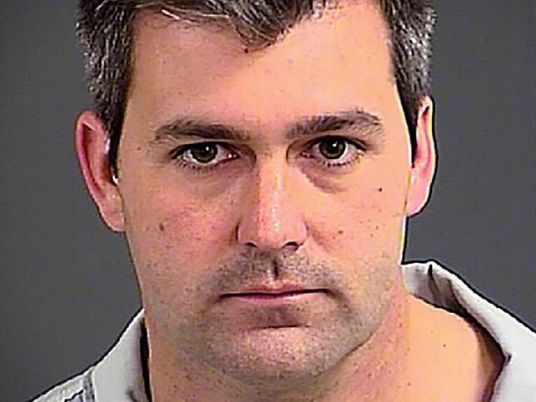 A white South Carolina police officer was arrested and charged with murder on Tuesday after a video showed him shooting eight times at the back of a 50-year-old black man who was running away after a traffic stop and died at the scene.
The FBI and the U.S. Justice Department launched a separate investigation into the fatal shooting, which is the latest flashpoint in a series of incidents that have raised questions about policing and race relations across the country.
Civil rights leaders called for calm, while many on social media said the official response would have been very different had the incident not been filmed by a member of the public who then handed the video to the victim's family.
"When you're wrong, you're wrong," North Charleston Mayor Keith Summey told reporters, adding that the recording had been key in the decision to charge the officer.
"If you make a bad decision, I don't care if you're behind the shield or just a citizen on the street, you have to live by that decision," Summey said.
The shooting occurred on Saturday morning after officer Michael Slager, 33, stopped Walter Scott for a broken brake light, police said.
The video shows a brief scuffle between the two men before Scott begins to run away. Slager is then seen taking aim with a handgun before shooting eight times at Scott's back. Scott then slumps facedown onto the grass.
According to a police report, Slager, who joined the department in 2009, told other officers Scott had taken his stun gun from him. At no point in the video, which does not show the initial contact between the men, does Scott appear to be armed.
Slager places the victim in handcuffs as he lies facedown on the ground, and then the officer takes several paces back to a spot near where he opened fire.
The video then shows him appearing to pick something up, return to Scott, and then drop it next to him on the ground.
FEW BLACK POLICE
The shooting took place in North Charleston, which is home to about 100,000 people, nearly half of whom are black, 2010 U.S. Census data shows.
By contrast, only about 18 percent of its police department's roughly 340 officers are black, the local Post and Courier newspaper reported last year.
Elder James Johnson, president of the local chapter of the National Action Network civil rights organisation, welcomed the swift decision to charge Slager.
"We still want to tell the community to remain calm," he said.
Chris Stewart, an attorney for Scott's family, said they cried and hugged when they learnt of the officer's arrest.
"What happened today doesn't happen all the time," he told a news conference. "What if there was no video? What if there was no witness or hero to come forward?"
The family plans to file a civil rights suit against Slager, the department and the city, he said.
The person who filmed the video is speaking with investigators and will come forward publicly "at some point," Stewart added.
Scott's brother, Anthony Scott, said his late sibling served two years in the U.S. Coast Guard, that he was a father of four, and that he loved the Dallas Cowboys.
He said his brother would "never" have fought the officer for his stun gun. "If you're caught, you're caught," he said.
SOCIAL MEDIA FRENZY
According to the Post and Courier, Scott had a warrant out for his arrest from family court at the time of his death.
His arrest history, mostly for contempt of court charges for failing to pay child support, included one accusation of a violation stemming from an assault and battery charge in 1987, the newspaper reported.
Social media sites saw a frenzy of reaction, mostly by people suggesting that without the video, no action might have been taken against the officer.
"Imagine how many times throughout history they got away with murder because there wasn't a camera," one person on Twitter commented.
South Carolina Governor Nikki Haley, a Republican, said the shooting was "not acceptable," and vowed the criminal judicial process "will proceed fully."
Slager, who was also formerly a member of the Coast Guard, had not previously been disciplined by the department, the Post and Courier said. He has two stepchildren and a pregnant wife.
The paper reported that in 2013 a man accused him of shooting him with a stun gun without cause, but that Slager was cleared of wrongdoing after an internal police investigation.
North Charleston Police Chief Eddie Driggers appeared to be fighting tears as he described his feelings watching the video.
"I think that all of these police officers on this force, men and women, are like my children," he told reporters. "So you tell me how a father would react."