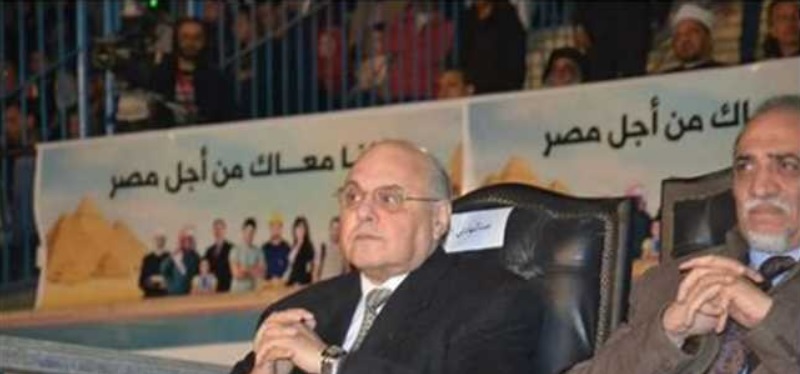 The beginning of the 2018 presidential elections witnessed various prominent figures demonstrate interest in competing against current President Abdel Fattah al-Sisi for the presidency.
Strong figures such as former army chief of staff Sami Anan, rights lawyer Khaled Ali, and former-Prime Minister and 2012 presidential hopeful Ahmed Shafik, among others, appeared as potential contenders to Egypt's current leader.
But election developments over the past two months saw the light of democracy dim, as potential candidates disappeared one by one. Between those who were arrested and those who abruptly withdrew their bid, Sisi emerged as the only viable candidate in the upcoming presidential election.
However, in order to avoid a one-man race, Ghad party pushed forward a last-minute candidate, Moussa Mustafa Moussa, who submitted his official papers minutes before the 2 pm deadline. But, who is Egypt's new presidential hopeful?
Moussa, 65, became vice-chair of the Ghad Party under the auspices of Ayman Nour, the former leader the party. However, in 2005 the relationship between the two turned sour as they both eyed the position of party leader. Moussa became one of four people suspended from the party by Nour.
Fast-forward to 2011, the Committee of Parties acknowledged Moussa as the rightful chair of Ghad Party. In 2012, Moussa merged Ghad with 25 other parties to form 'Hezb Al-Moatamar Al-Masry' (Egyptian Congress Party), which operated under his leadership.
When interviewed by 'Youm7′, Moussa claimed his presidential bid had been long-discussed in the party, saying Ghad had a coherent plan to push Egypt forward.
Moussa was keen to emphasize that the party will not serve as a show-contender against Sisi, saying "we wont stand by watching, and will perform our active role in the elections," believing that the party has generated enough ground to actually make a difference in the election's outcome.
In an interview with Al-Watan, Moussa said that contrary to accusations, he was not "running on borrowed time." The party, he says, has been working for two weeks to "get the required signatures from parliament and the people," adding that his candidacy is also a good opportunity for his party to showcase their program to a massive number of people.
Moussa added, "I've already undergone the medical check and have gathered 26 parliamentary members' approvals."
However, some have questioned the seriousness of Moussa's candidacy, as he seems very fond of rival Sisi. In September 2017, Moussa created the 'Moayedoon' (Supporters) campaign, which called upon Sisi to run for a second presidential term.
On top of this, Al-Masry Al-Youm reported that Moussa's Facebook cover photo, until Monday at least, showed Sisi with word 'Moayedoon' next to it.
In another post from January 23, he writes "Long Live Egypt… President Abdel Fattah al-Sisi for presidency," with a campaign photo of Sisi attached.