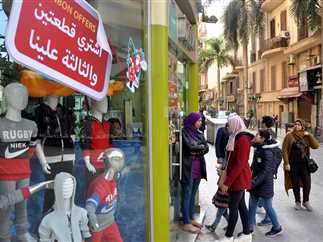 Winter sales set to last a full month kicked-off on Monday in Egypt, with vendors around the country wishing to participate in the discount season needing to get pre-approval from Egypt's Ministry of Supply before marking down their products.
Supply Minister Ali al-Moselhy added that each shop should hold the sale for a minimum of two weeks, stressing as well that strict controls and other regulations should ensure the quality of the products being discounted this next month and put a stop to "fake" or misleading offers.
Official claims will be filed against violators, he said, underlining that participating traders must announce the price of goods before and after the discount to make sure consumers are well-informed.
Cuts are scheduled to start from 20 percent on ready-made clothes and shoes and gradually increase to reach 70 percent toward the end of the month-long sale.
Yahya Zananiry, a member of the ready-made garments division of the Cairo Chamber of Commerce, said that the discounts on ready-to-wear clothes will range between half-off and 70 percent off, adding that the sale is a great opportunity for consumers to meet their needs without paying high prices. 
He also said that the cuts had already started in some shops before the official launch date of the sale.
Sherif Yahya, a member of the Shoes and Leather Products Division of the Cairo Chamber of Commerce, said that shoe stores also started the sale earlier than the official date launch.
He expected cuts to range between 30 percent and 70 percent for shoes.
Edited translation from Al-Masry Al-Youm