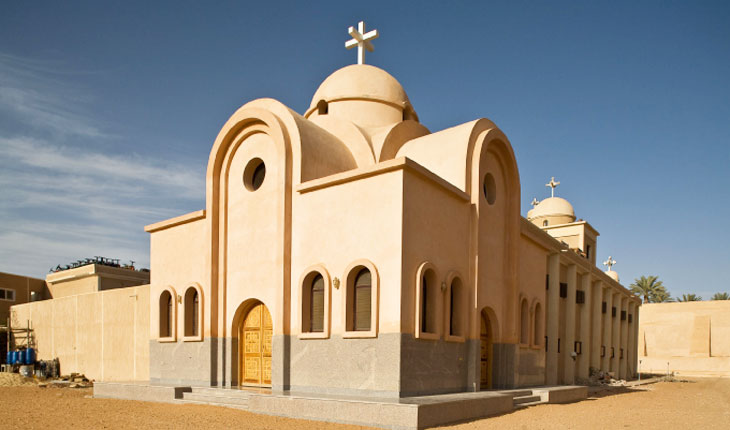 Like many years past, the celebration of the Coptic Christmas Mass, led by Pope Tawadros II begins Wednesday at 8:45 pm at the Church of the Transfiguration in Logos Center at the papal of St. Bishoy Monastery in Wadi al-Natrun, located in Egypt's Beheira Governorate.
However, this year's celebration will be without an audience, due to precautionary measures against the outbreak of coronavirus.
Due to increased case numbers over November and December, Egypt's Coptic Orthodox Church decided on December 6 to suspend all mass service in Cairo and Alexandria, as well as Sunday school services and church meetings.
The church announced that Pope Tawadros, the Pope of Alexandria and Patriarch of Saint Mark, will preside over the Christmas Mass and broadcasted on live television with a presentation by TV host George Rashad.
Egypt's United Media Services (UMS) and sources of Al-Masry Al-Youm confirmed that viewers can enjoy the 2021 mass live on a number of TV channels, including Extra News, ON, Channel One, Channel Two, Al-Hayat, DMC, CBC, ON, TeN, Dream, Al-Mehwar, Sada al-Balad, and Al-Masriyah.
The celebration will be filmed in HD with nine cameras, seven of which are inside the church and two outside it, under the supervision of three directors.
Other TV channels will premiere Christmas specials and documentaries on Thursday that cover the holiday and Coptic faith.
The Nile Culture channel will be showing the following documentaries: The Journey of the Holy Family, the Interfaith Complex, and Saint Catherine's Monastery.
The Nile Drama channel will broadcast a special episode in which it hosts Father Boutros Daniel, head of the Catholic Center for Cinema, to talk about issues that deepened and emphasized the concept of national unity.
Viewers can catch a series of documentary films, including "The Coptic Museum" and "Escape to Egypt", as well as the play "Shafiqa el-Koptiyya" on Egypt's Maspero Zaman channel.
Finally, the Nile Life channel will show a special episode of the "Nahark Saeed" (Happy Day) program on Thursday. Kitchen Life channel will broadcast a special episode on New Year's, in addition to the movie "Hassan and Marcus", which stars Adel Imam and Omar Sharif.
Coptic Christmas is celebrated on the 7th of January every year, and differs from the international Christmas celebration held on the 25th of December.
Edited translation from Al-Masry Al-Youm