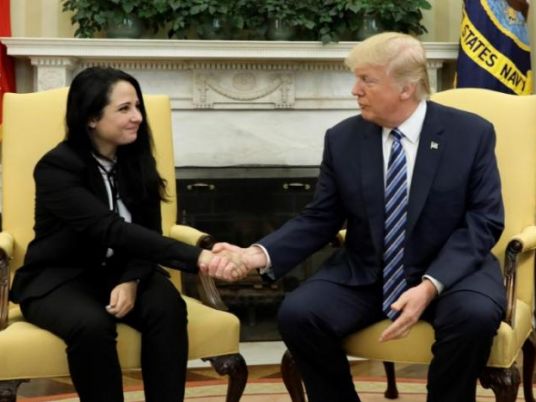 During the speech of the US President Donald Trump on his 100th day in office, he mentioned the release of the Egyptian-American activist Aya Hegazy from Egyptian prisons as one of his achievements.
Hegazy, along with her husband Mohamed Hassanein and other defendants have been in prison since May 2014 in pre-trial detention over charges that her NGO called "Belady", which works with street children in Cairo, was involved in child abuse and operating without the permission of authorities.
Her release was sought by Trump when he met Egypt's president earlier in April. She was released on April 16, as well as other defendants in the case, after the engagement of Trump and his aides in behind-the-scenes diplomatic efforts, following former president Barak Obama's failed attempts.
Only five days later, Trump welcomed Hegazy back to the United States and they sat in a meeting in the Oval Office that also included Trump's daughter, Ivanka Trump and his aides.
Surprisingly, Trump talked about Hegazy's release in his speech, saying that it was part of his efforts in strengthening the friendships and alliances all around the world.
"For instance," said Trump, "we were proud to quietly work with the Egyptian government last week to ensure that an American citizen – a beautiful young woman named Aya came home after being in an Egyptian prison for the past three years, she was going to be there for another 28 years," he said.
He pointed out that former president Obama worked diligently for three years but he didn't get them out; "I met with President Al-Sisi and it worked out quickly and he was great about it, and not only did the court system and President Al-Sisi let her out, but they let her husband, her innocent eight people and they all are back here right now," he said.
"They won't include this in my 100 days but I'm very proud that I've done it and she's a happy young woman.. I said: 'How tough, Aya, was in that prison?' She said: 'You don't want to know'," recounted Trump.
The speech provoked anger among Egyptians, and prompted TV show presenter Lamees Al-Hadidi to urge the Egyptian foreign ministry and state bodies to release an official statement detailing what Trump has said and refuting what she called "inaccuracies" in his statement; because it is damaging to the reputation of the Egyptian regime and judiciary, according to Hadidi.